Let's be honest - you don't have to be a comic-book lover to be obsessed with Marvel's entertaining films. Now, you get to see some rare shots of the talented people who play the characters we all know and love in these behind the scenes pictures. You're welcome!
Puppet pal (Avengers: Infinity War)
It's sweet to make good friends when you're on the set of a movie - or in the case of The Avengers, many movie sets. The late Chadwick Boseman (A.K.A. Black Panther) hangs out with his furry friend on the set of Avengers: Infinity War.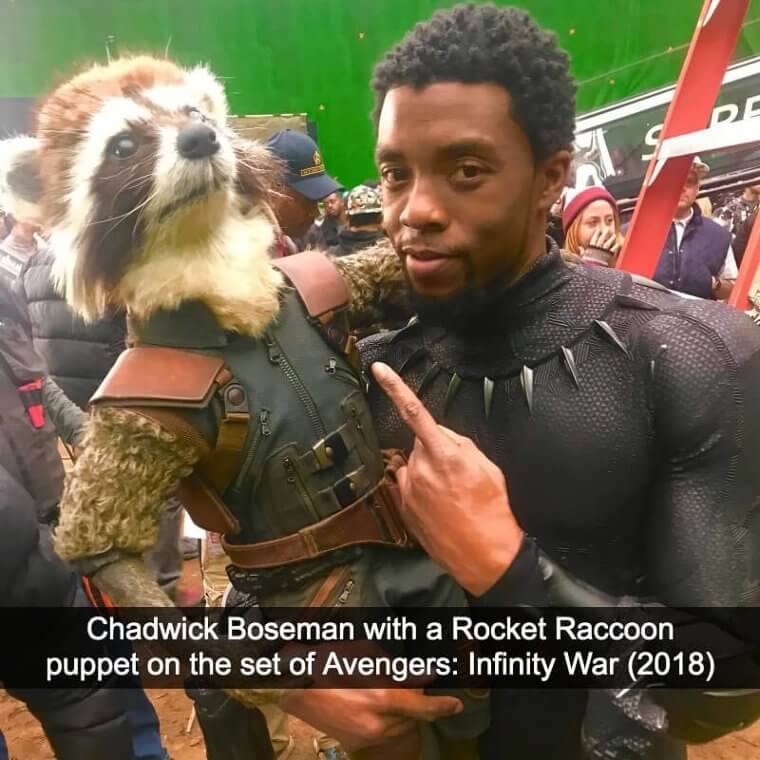 This Rocket Raccoon puppet actually looks pretty lifelike, and we can't help but wonder which exact scene this was used for. But mostly, it shows the funny and lovable side of the talented Chadwick Boseman - one actor we'll never forget.
What's the reality? (Avengers series)
Is this not one of the creepiest behind the scenes pictures you've ever seen? It looks like he's stepped straight off the set of a horror movie, not a Marvel film.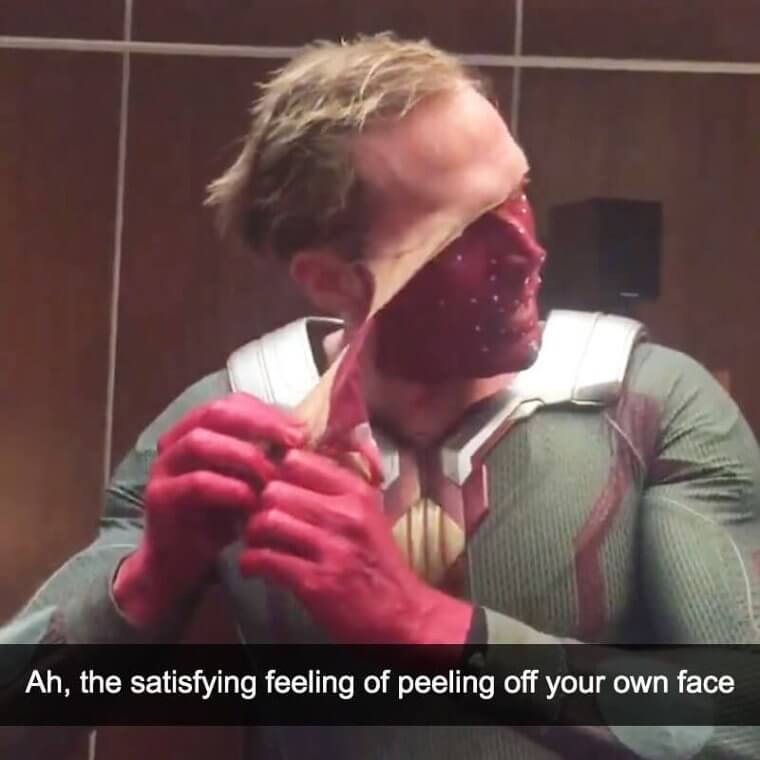 The extra terror of this image is that it's an extract from a video where the actor, Paul Bettany, is taking off his Vision character makeup for the day, but what it really looks like is that he's taking off his skin to reveal the red vision face underneath. It's creepy and confusing.
Retro fun (Avengers: Endgame)
Ever wondered what the Avengers team does when there's no threat to the universe as we know it? Video games, of course! This is a rare peek of Black Widow and Captain America kicking it with their favorite past-time - some kind of retro Gameboy-looking device.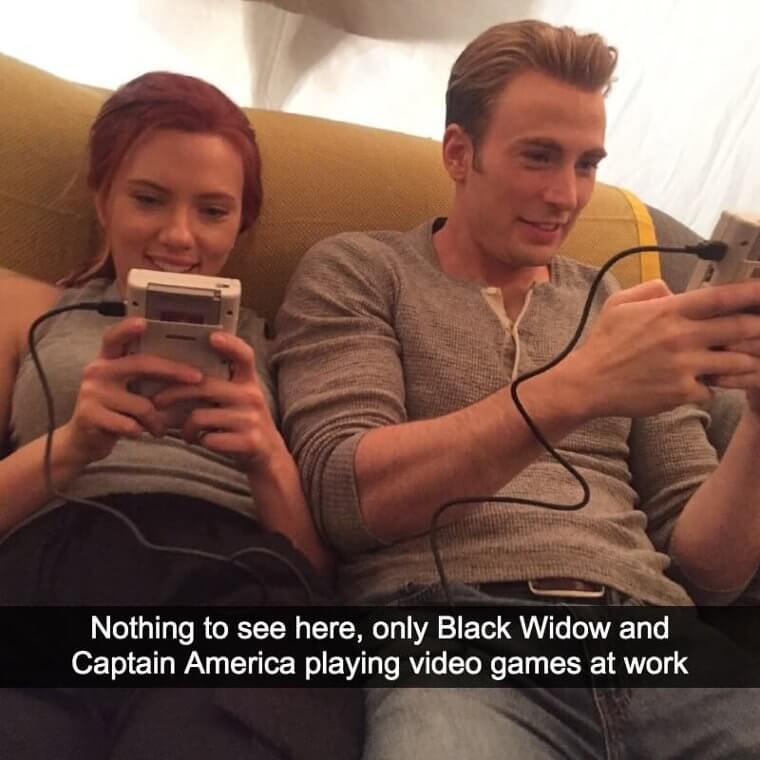 The picture was snapped on the set of Avengers: Endgame and uploaded to Mark Ruffalo's Twitter account. To be honest, we enjoyed seeing these usual bad mothers reverting to this cute child-like play.
Consistent cameo (Thor: Ragnarok)
Die-hard Marvel fans will already know that comics legend Stan Lee appeared in every installment of the Marvel Cinematic Universe movies up until 2019. Although he passed in 2018, he had already filmed his cameo piece for the 2019 films.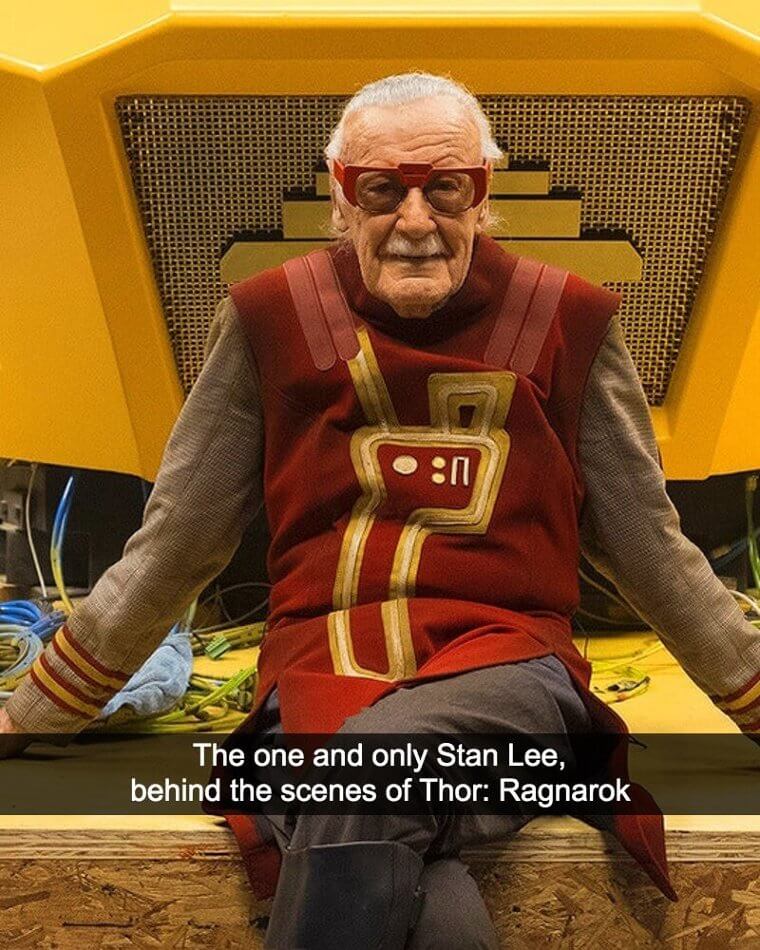 This shot is from his cameo in Thor: Ragnarok, in 2017, where he appeared as a servant to the Grandmaster on Sakaar. He asked Thor to be still, with his line "My hands aren't as steady as they used to be."
Suit up (Avengers: Endgame)
When Chris Hemsworth's character went through a drastic transformation in Avengers: Endgame as a depressed overweight Thor, this shocked audiences. The usually attractive stud wore a 70-pound fat suit to play out the scenes where we find his character in a dark place, eating his emotions.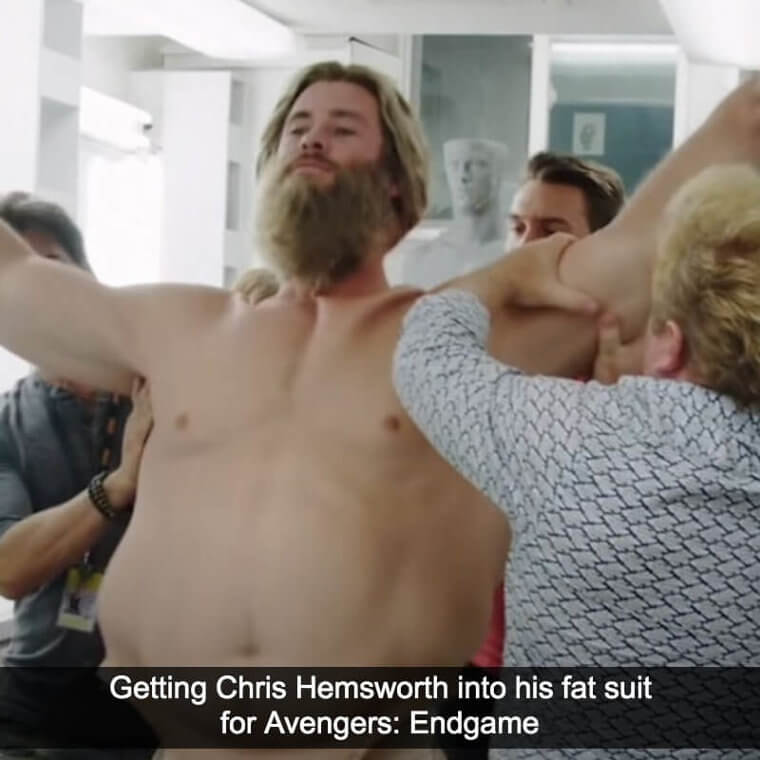 Interestingly, Chris notes that the suit was 'liberating' to wear, and he 'enjoyed that version of Thor' as it gave him more range to play the character in a new way.
Putting it together (Thor: Ragnarok)
Benedict Cumberbatch as Doctor Strange is one of the best casting decisions in the Marvel movies… who agrees? This is a behind the scenes shot of a set worker who looks super similar to the Irish-German actor, Michael Fassbender, fastening his cape between takes.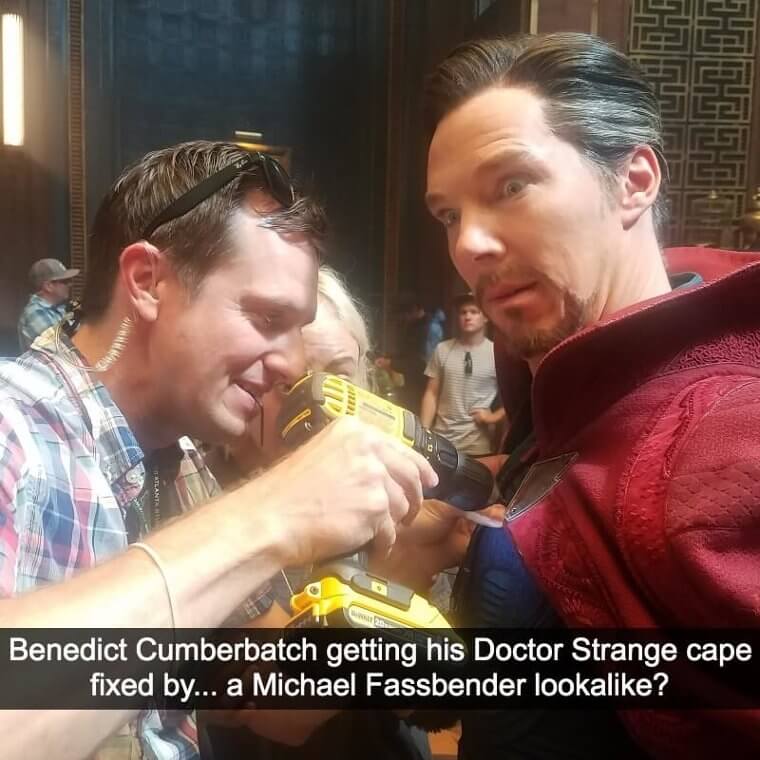 Cumberbatch's expression is on-point - a look of fascination. We wonder if he's reacting to the fact that his assistant looks so much like the actor, or that he's chosen to use a drill to fix his costume?
Props to this (Avengers: Infinity War)
Sometimes actors get to take movie props home that they love, and sometimes the props are kept in the archives to be shown later in movie museums or for other reasons. If we were Karen Gillan, A.K.A. Nebula, we would totally be asking for this prop at the end of the movie.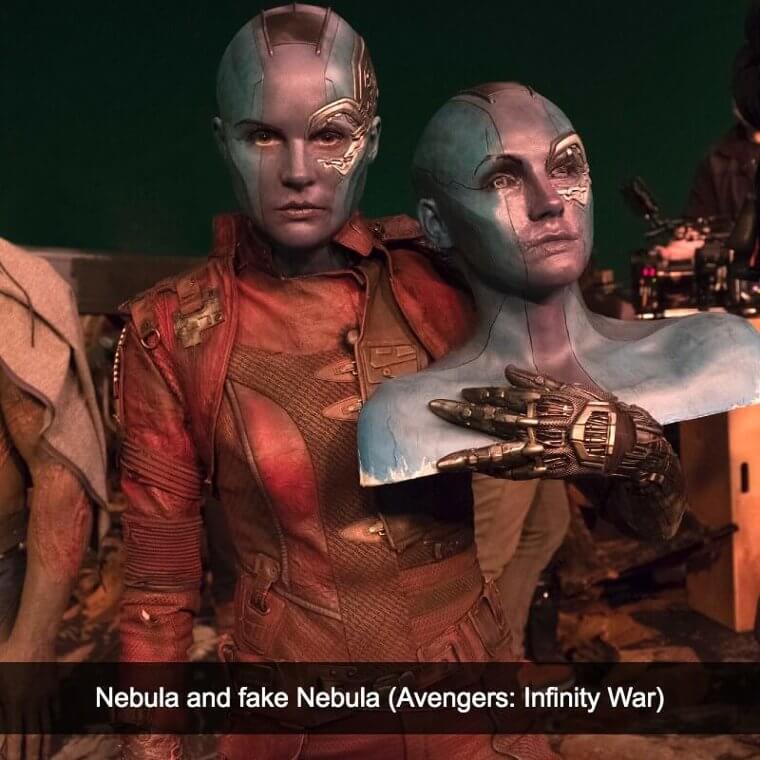 Imagine putting that on your mantelpiece in the living room. It's so cool that it's worth creeping out some guests who come over and get a shock seeing Nebula above the fireplace.
Interpretive dance (Avengers: Age of Ultron)
Did you know that the Scarlet Witch had extra powers that were never revealed to audiences on-screen? Like the power of interpretive dance! Ok, we are being playful. But this shot does look like Elizabeth Olsen (A.K.A. Wanda, or the Scarlet Witch) is doing a very passionate dance number on the battlefield.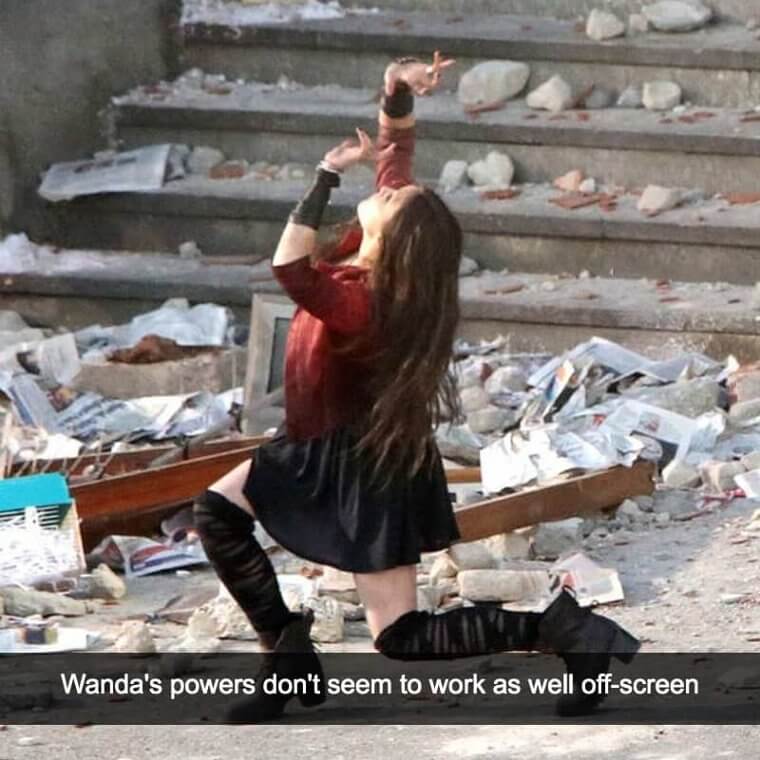 Really, it's a shot of the real scene before any special effects are put over the top to show her red glowing powers.
Blue ballet (X-Men: Days of Future Past)
It kind of looks like a ballet move that Jennifer Lawrence is performing in this behind the scenes shot from X-men: Days of Future Past. To transform Lawrence into the Mystique character, this costume took some effort.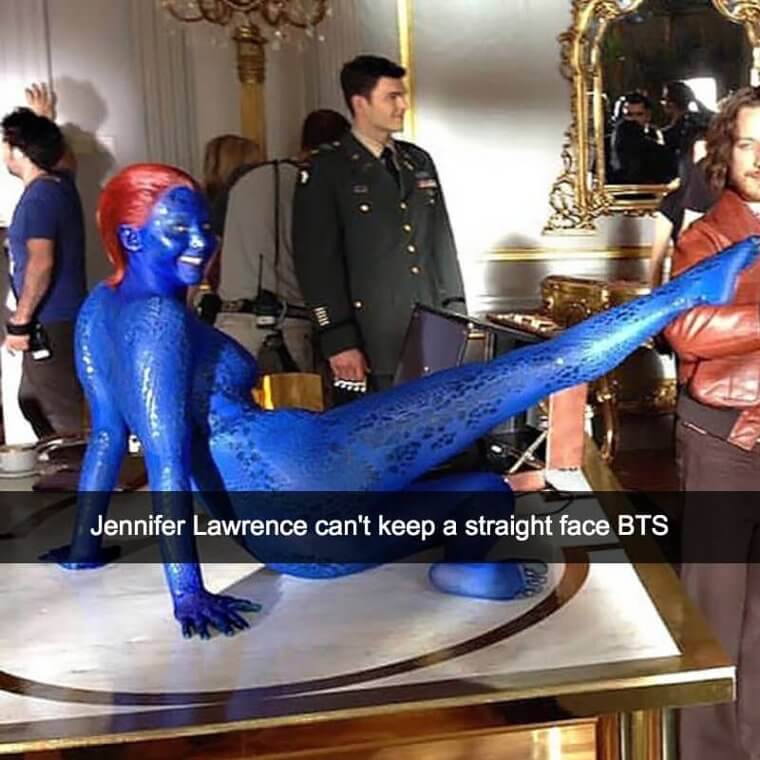 Apparently, she wore full prosthetics in the previous movie X-Men: First Class, but it turned out to be too uncomfortable. They upgraded her costume to be a full bodysuit made of leathery-looking material to mimic skin. Looks like she was way more comfortable in this one!
Food of gods (Thor)
Didn't you know? Sushi truly is the food of gods. This was back in the early days when Thor was more balanced and healthy - before he turned to junk food and beer in the movie Avengers: Endgame.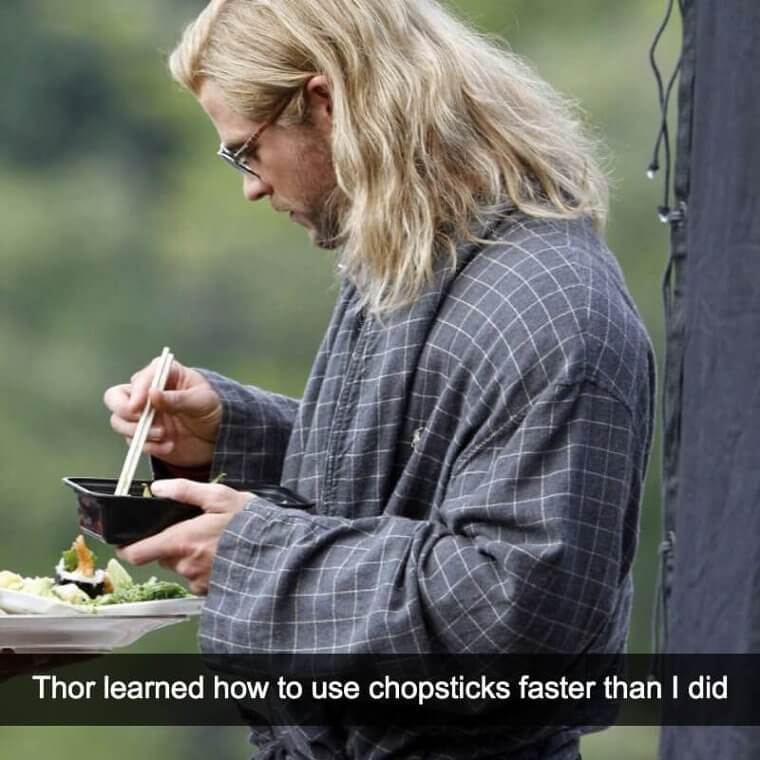 There you have it, if you were wondering how Chris Hemsworth got his impressive body for the movies, just take a page out of his book and go on a sushi diet. It clearly worked. Also - use chopsticks - you'll look far more sophisticated.
Face-off (Avengers: Infinity War)
When the young Gamora had her debut in the movie Avengers: Infinity War, there was a collective 'aww' from all audiences at how adorable she was. Ariana Greenblatt did a fantastic job at playing this character (and props to the costume people, too).
This moment was a funny capture of what looks to be a face-off between Zoe Saldana and Ariana Greenblatt, attempting to claim their rightful place in the set chair. Super cute moment!
Goddess of Death needs no direction (Thor: Ragnarok)
No one tells the Goddess of Death - Hela - how she should act! Or rather, no one tells Cate Blanchett how to act, since she really is one of the most talented actresses of all time. This shot is from behind the scenes with the director of Thor: Ragnarok, Taika Waititi.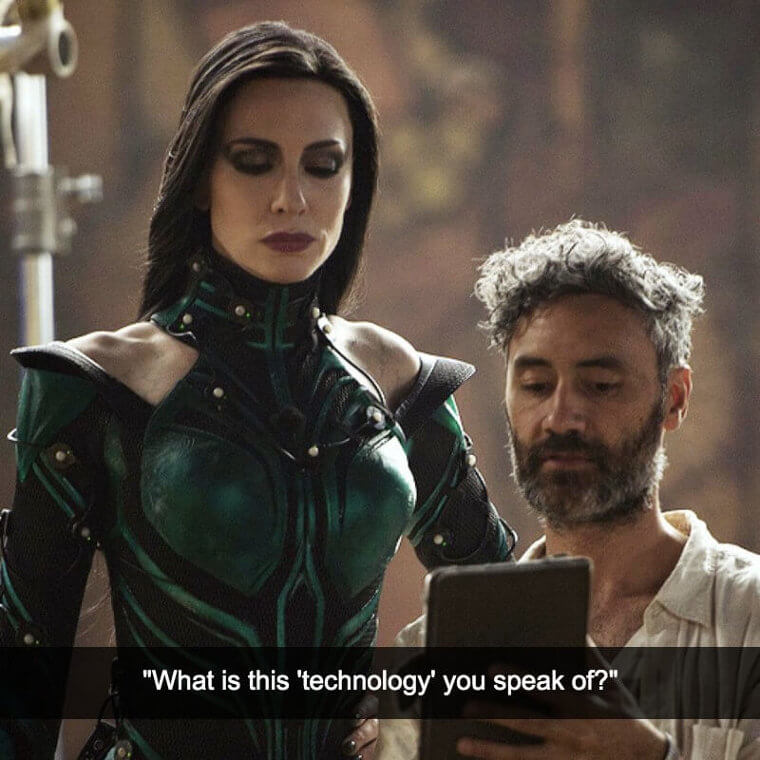 Her performance in this movie was on par with her usual expert acting, even making Chris Hemsworth gush over her skills, saying "she's just insanely funny and smart and talented."
Thanos on a stick (Avengers: Infinity War)
There are so many things going on in this behind the scenes shot from Avengers: Infinity War, that we don't know where to start! Firstly, what is Zoe Saldana showing Josh Brolin? And secondly, why is Brolin wearing a floating Thanos head?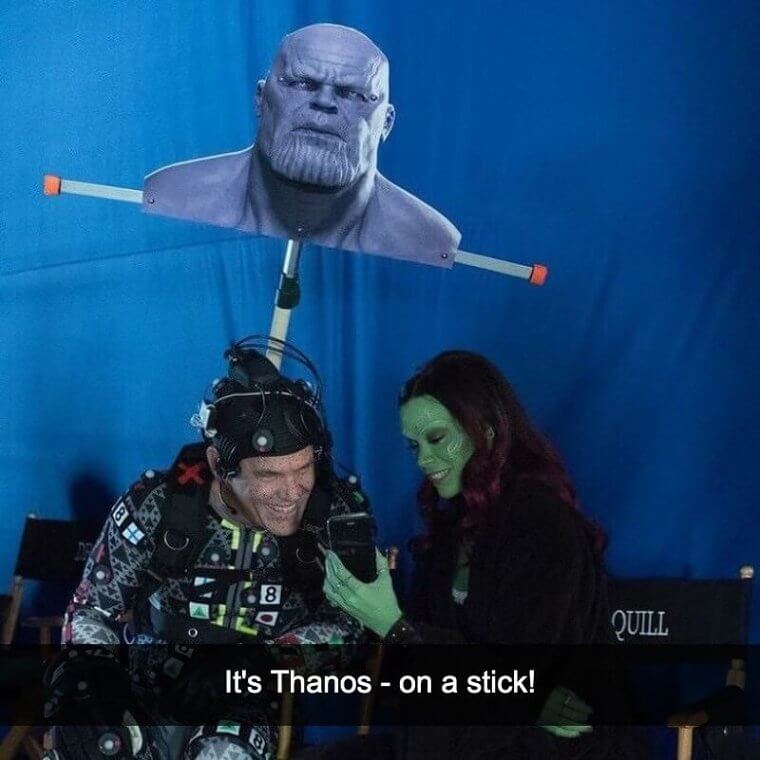 Okay, we can't answer the first question, but we do know why he has this ridiculous contraption on! This was to give the other actors a point of reference in some scenes since Thanos's character was much larger than the rest.
Vision needs better vision (Avengers: Endgame)
Seems like Vision doesn't actually have perfect vision at all. Not to mention, his status as an impressive synthezoid in the Avengers: Endgame film does not mean that doesn't have to handle normal adult responsibilities like all of us, namely paperwork.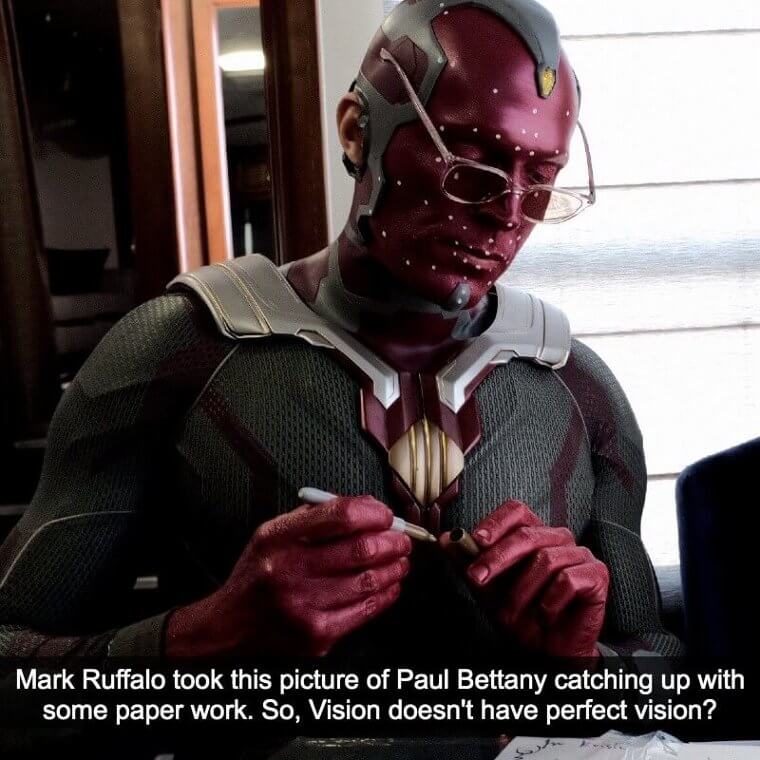 Although this is likely Paul Bettany doing his taxes between scenes, not actually Vision, it's a funny and ironic snap that Mark Ruffalo captured with him being in full costume, plus reading glasses. We couldn't help but giggle.
Sun safe (Avengers: Infinity War)
Thor and Captain America may be some of the most powerful heroes in the Marvel Universe, but that doesn't mean that they don't have weaknesses. In this rare behind the scenes shot, we learn that one of the most dangerous villains for these strong men is… the sun.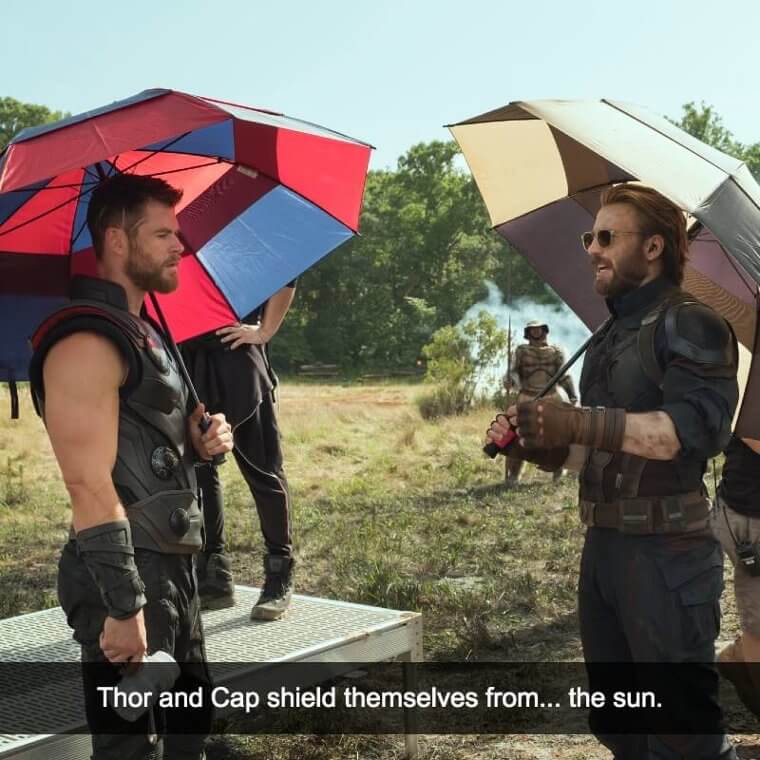 Either that or Chris Evans and Chris Hemsworth on the set of the film… have something in common other than their name - sensitive skin. In all fairness, we think that they're being great role models.
Fan club (Avengers)
Although his character, Loki, isn't the most likable in the Marvel Universe, Tom Hiddleston is actually a charming guy. Not only is his British accent soothing to the senses, but he's also a hit on set with being one of the favorite cast members with his suave style and sweet humor - you can tell by this picture of the cast together flocking around Hiddleston.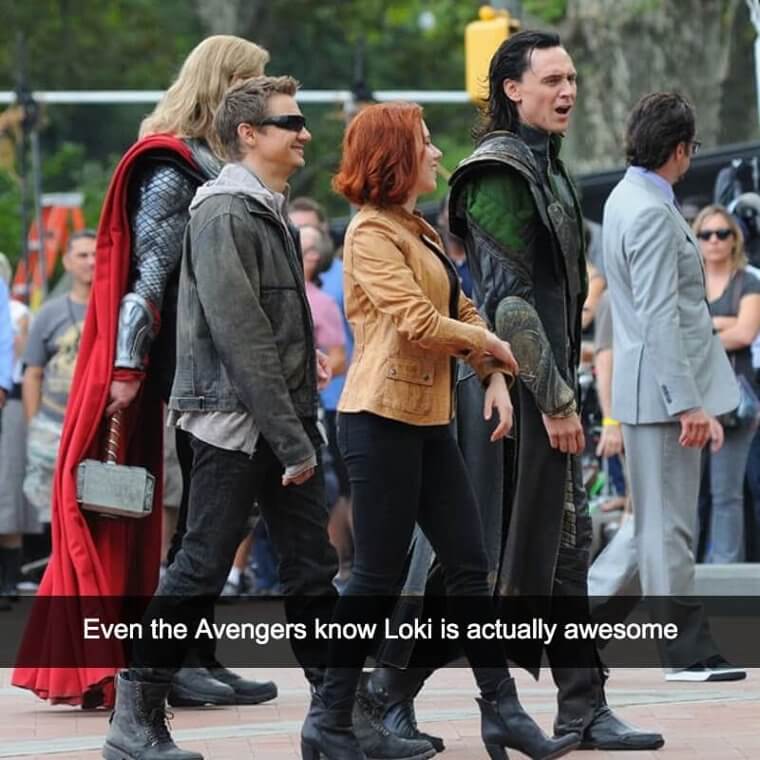 His on-screen brother, Thor, is actually a friend in real life, as Chris Hemsworth is said to be his favorite actor to work with.
A helping hand/claw (The Wolverine)
Here's Rila Fukushima, the actress who stars as Yukio, a guide/sidekick character to The Wolverine, just casually scratching Hugh Jackman's back on set. Fun fact!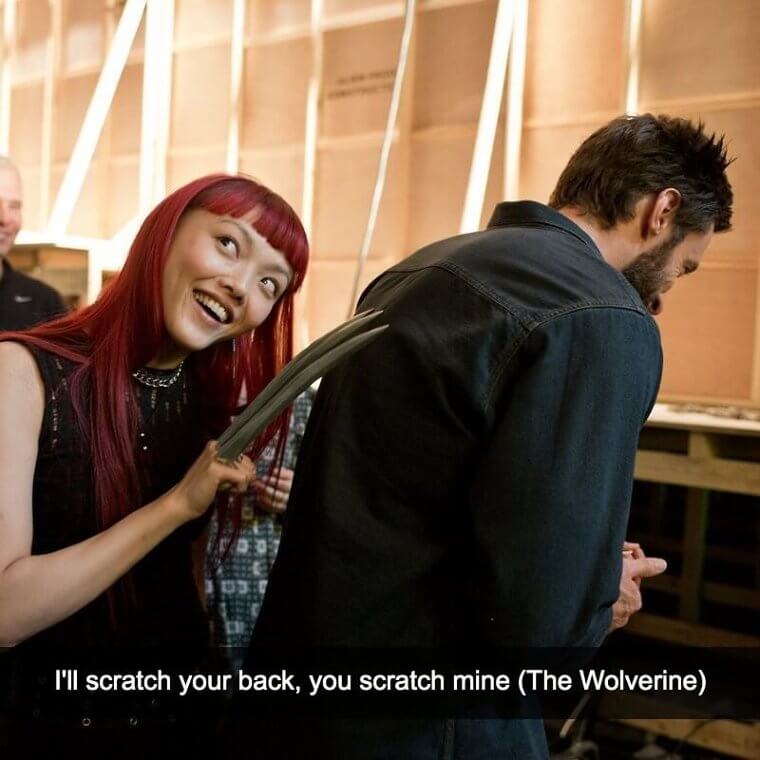 These two were as chummy as they look, with Jackman apparently even helping the actress behind the scenes when she wouldn't say anything when she was hungry, and he would go and request food for her. It was her very first movie, actually, so Fukushima says that she was a little shy on set.
Intense dressing (Guardians of the Galaxy)
When we see the stars on-screen decked out in their amazing costumes, we can take it for granted that they might have sat through hours of torturous make-up and dressing. Some are probably easier than others - like Thor, Loki, and Doctor Strange not really needing much but a wardrobe change.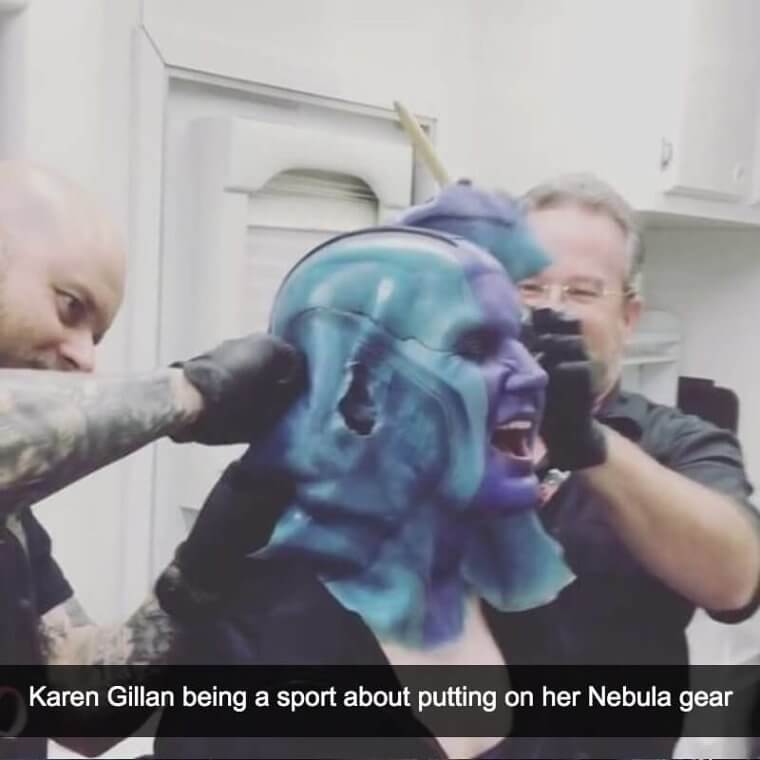 This photo of Karen Gillan is a great example of one of the more intense dressings, as we can see by the effort that it took to get transformed into her Nebula character.
Best casting ever (Avengers: Endgame)
Although the casting was great for the characters that Don Cheadle, Scarlett Johansson, and Gwyneth Paltrow played, the hands-down winner of casting goes to Robert Downey Jr. as Tony Stark. Why do we say that? Because this behind the scenes shot says it all, really.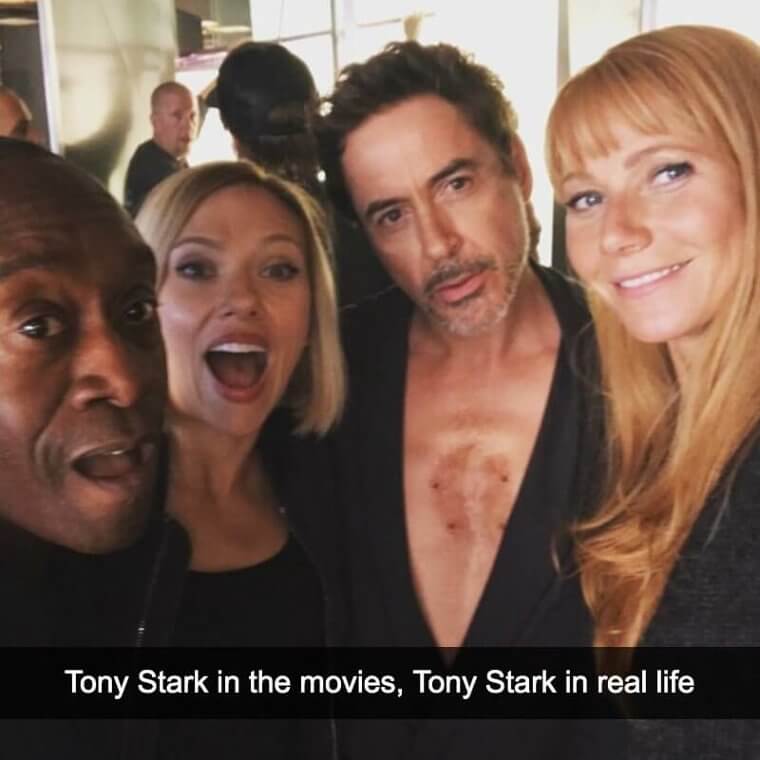 That poser face, the dress jacket with no shirt underneath… he looks exactly like his self-absorbed character would post in a group selfie. That was a total win for the casting directors of Iron Man.
Future feels (Avengers: Endgame)
We don't all get the chance to have a real glimpse of how we will look when we're older. Sure, there are those websites you can use to get a filter to age your face, but what about real-life physical aging?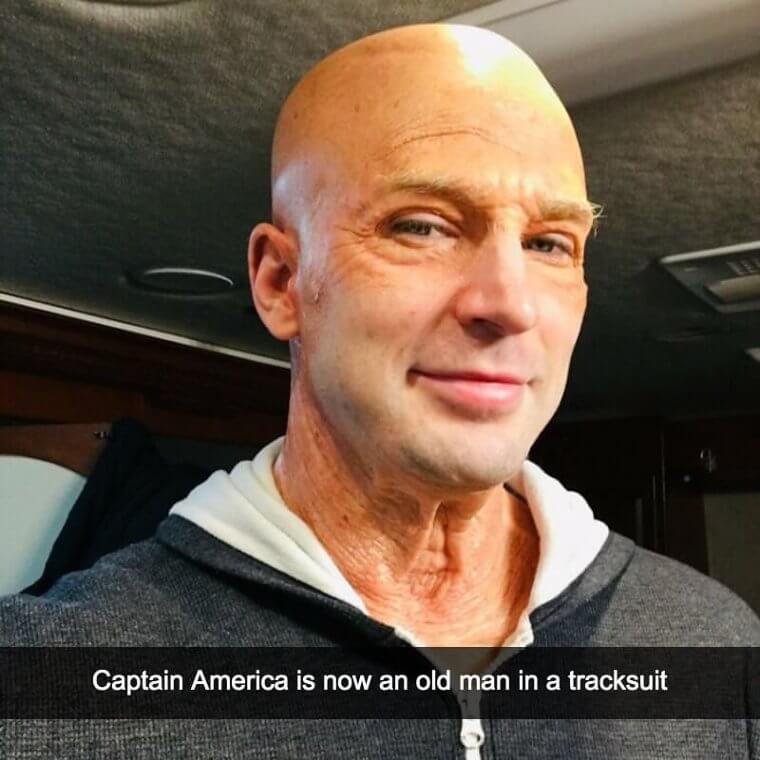 The make-up team did an incredible job at making Chris Evans, A.K.A. Captain America, look 30 years older. It's both incredibly realistic, and just a little creepy. But Evans doesn't seem to mind the transformation. He's a good sport.
Transformational characters (Deadpool)
Ryan Reynolds and Morena Baccarin are seen here having fun on the set of Deadpool. Interestingly, Baccarin didn't even read the script properly until she was super close to getting the role. When she landed it, she was pleased with the fact that the character is one that she genuinely liked.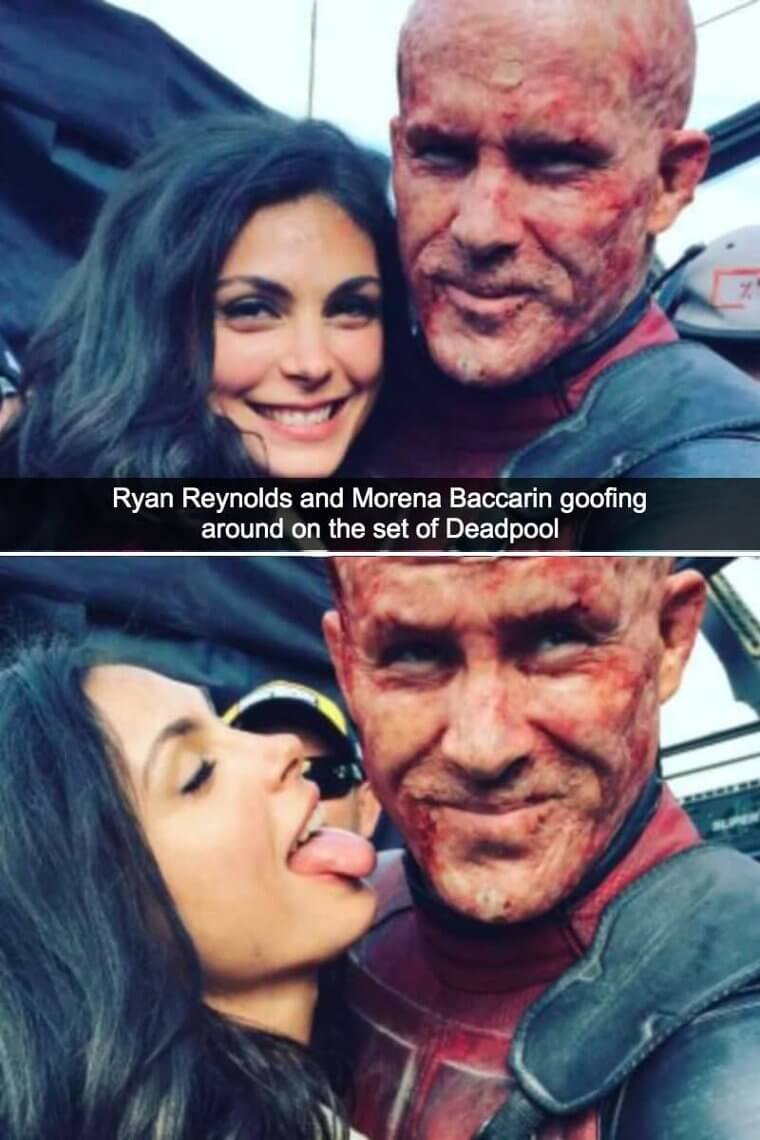 As far as this transformation for Reynolds, it's said that the face and arms scar makeup would take four hours, and the whole body makeup would take up to nine hours.
A big softie (Guardians of the Galaxy)
His character sure wouldn't admit it, but the actor playing Yondu - Michael Rooker - has a soft spot for dogs here in this picture taken off-screen between takes.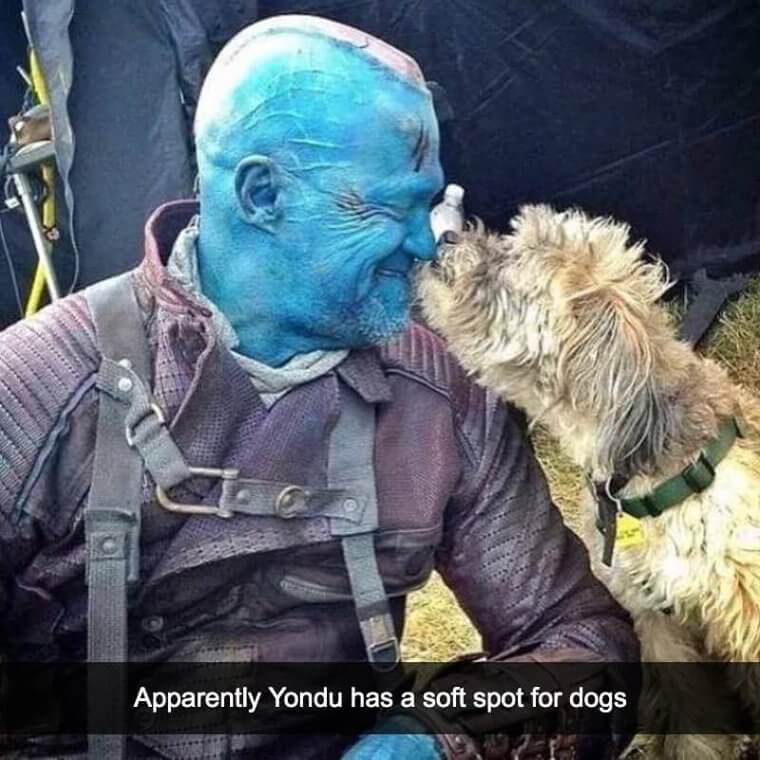 Although Rooker played Yondu in both Vol.1 and Vol.2, it's been reported that he won't be back to play Yondu again in Vol.3, as he would love the character's valiant death to actually remain. The actor has actually been known to throw shade at other Marvel characters who have come back from the dead.
A funny look at the Stark's end (Avengers: Endgame)
It was a heart-wrenching moment for fans around the globe in this final scene featuring Tony Stark holding the gauntlet. When we see what it actually looked like in this behind the scenes shot on the playback cameras, we can't help but giggle at the otherwise emotional scene.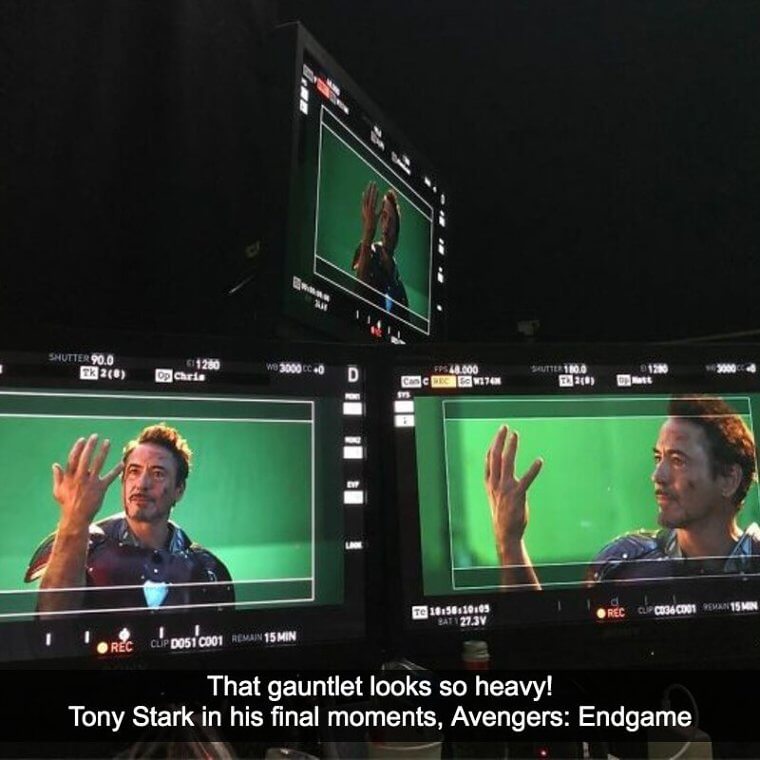 Without the special effects, he is literally holding nothing. But he is doing so in a very passionate and emotional manner. That's some good acting, right there.
Creepy Ruffalo (Thor: Ragnarok)
This is what it took to make the hulk's features come to life on-screen. Mark Ruffalo's makeup didn't involve, well, makeup. His transformation happened with CGI dots stuck to his face. The effect (before the special effects come in) is downright creepy.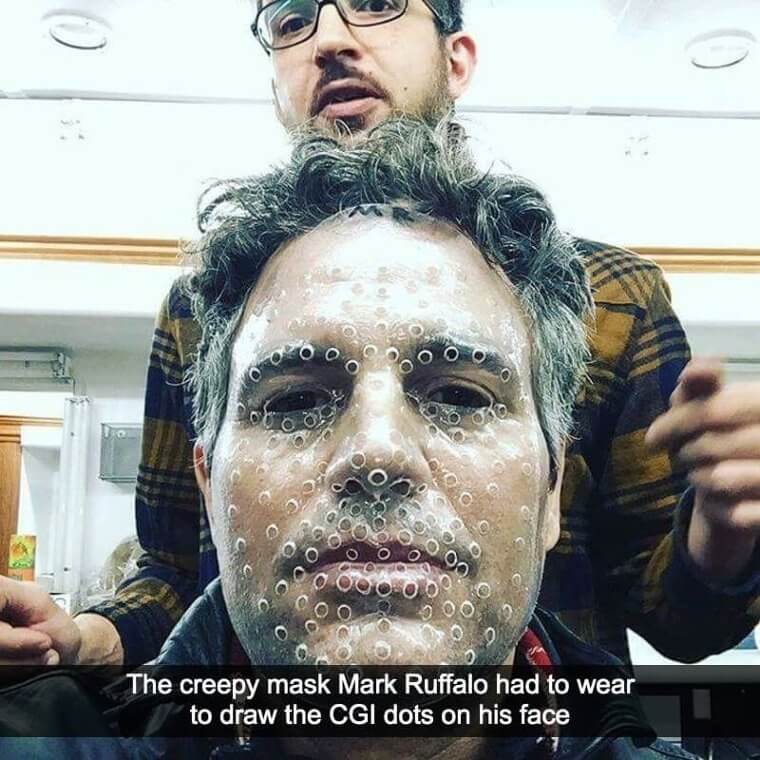 It makes him look like a villain in a horror movie, not a hero in a Marvel film. But it is effective! Thank you, technology, for making our Marvel Universe come to life.
Such a sweet moment (Avengers: Infinity War)
Here we have a sneak peek at what the cameras caught in this sweet moment on-screen as Thanos comforts young Gamora in Avengers: Infinity War, and who would have known it actually was filmed with this whole contraption on actor Josh Brolin's body as he performed the scene with actress Ariana Greenblatt.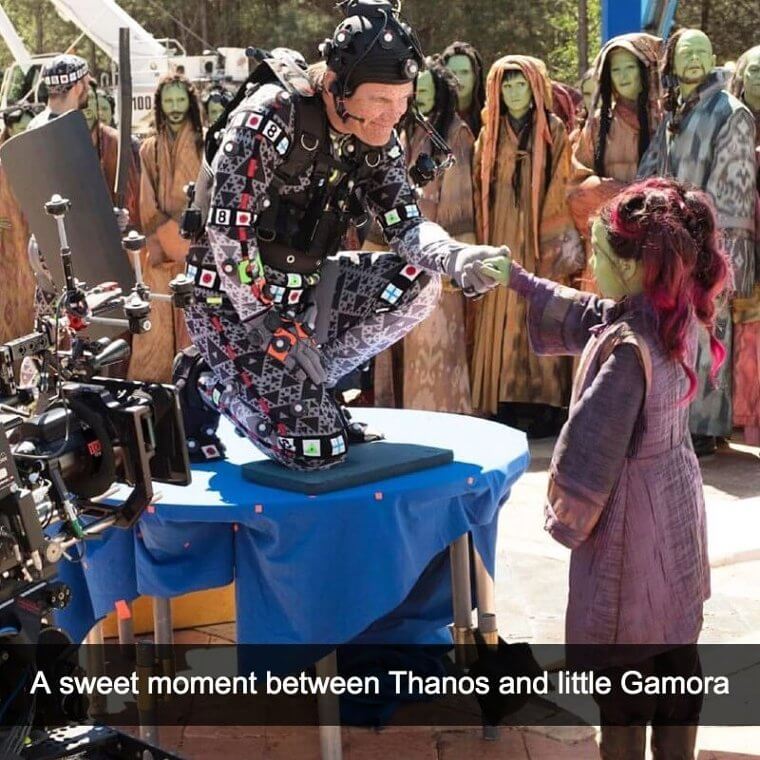 That's what it takes to create the alien-like Thanos character. A lot of expensive CGI technology (plus a random table with a blue covering).
Killmonger goosebumps (Black Panther)
Imagine how long this took for the makeup team to attach these scar-like dots on Michael B Jordan's body for his character costume for the role of the villain Killmonger. It definitely looks like tedious work, requiring lots of concentration to get them all in order.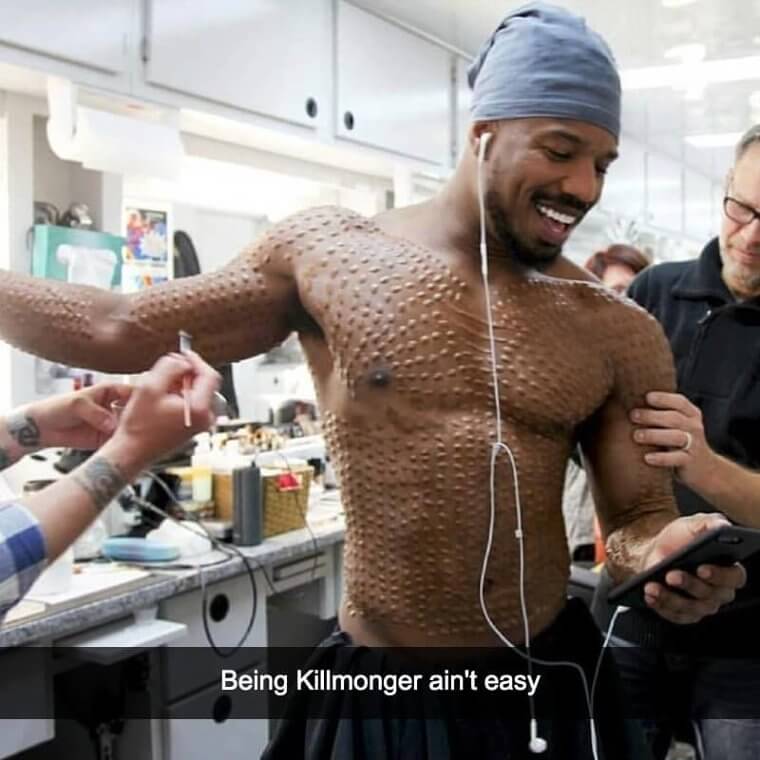 The effect is totally worth it, though. It really looks epic on film. Even if the scars do kind of resemble giant goosebumps or mini bubble wrap coating his skin.
Friendly Turner (X-Men: Apocalypse)
Sophie Turner made her Marvel debut in the movie X-Men: Apocalypse, playing the young Jean Grey who is driven to harness her power to read minds. The actress is seen here on set with a fellow cast member, a stuntman we don't know the name of, but looks to be happily hanging out with Turner.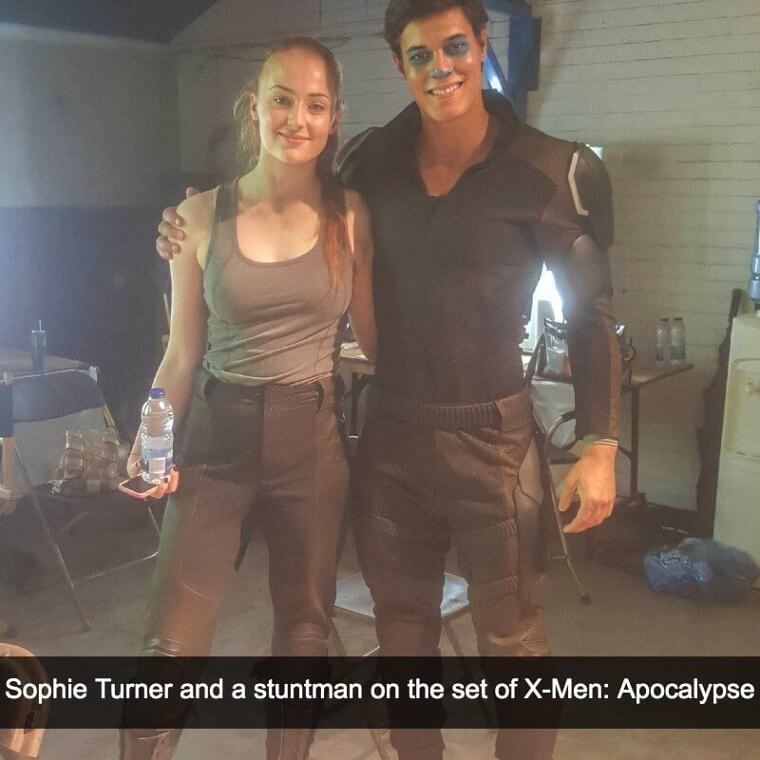 One such member of the team that Turner wasn't happy with, however, was the actual director. Turner shares that her time working with director Bryan Singer on this movie was 'unpleasant.'
Stay in character (Avengers: Endgame)
Everyone on set has different schedules of filming. This photo is a great example of how some of the stars had to endure a lunch in full makeup, likely because they had more scenes to shoot later. That would have made for a playful lunchtime, we bet.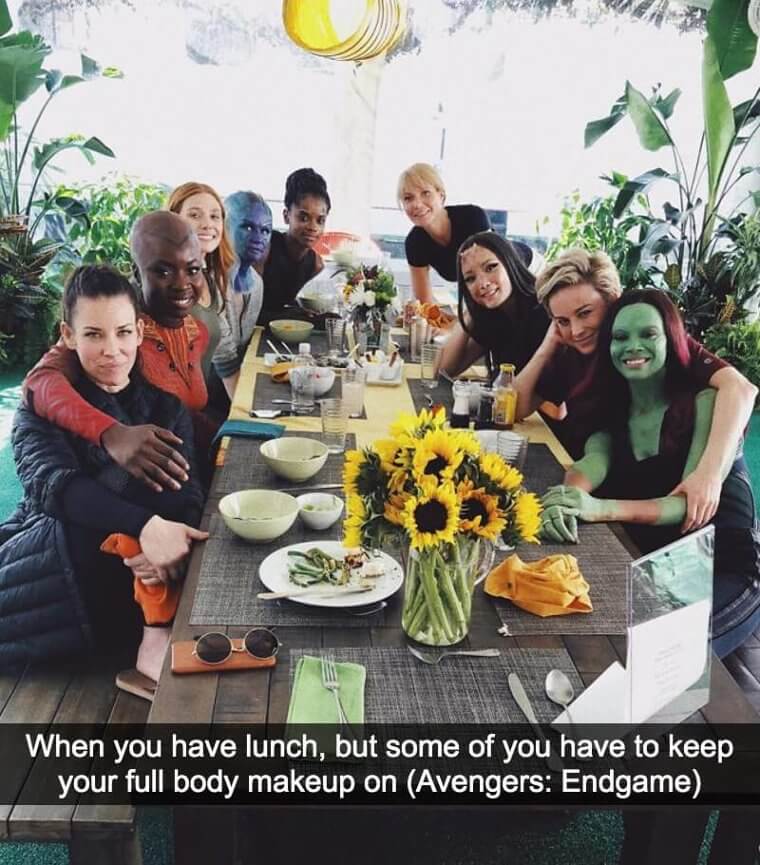 We love the girl power energy at this table, which looks like a meeting of great actresses (and kick-ass characters). We can't help but notice, however, that Gamora's green arms are starting to rub off. Whoops!
Totally passionate (Guardians of the Galaxy)
We love the commitment Vin Diesel is clearly giving his role of voicing Groot in the Guardians of the Galaxy film. Fun fact, he actually recorded the iconic line "I am root" 1,000 times in 15 different languages, including Japanese, German, Mandarin, Spanish, and more.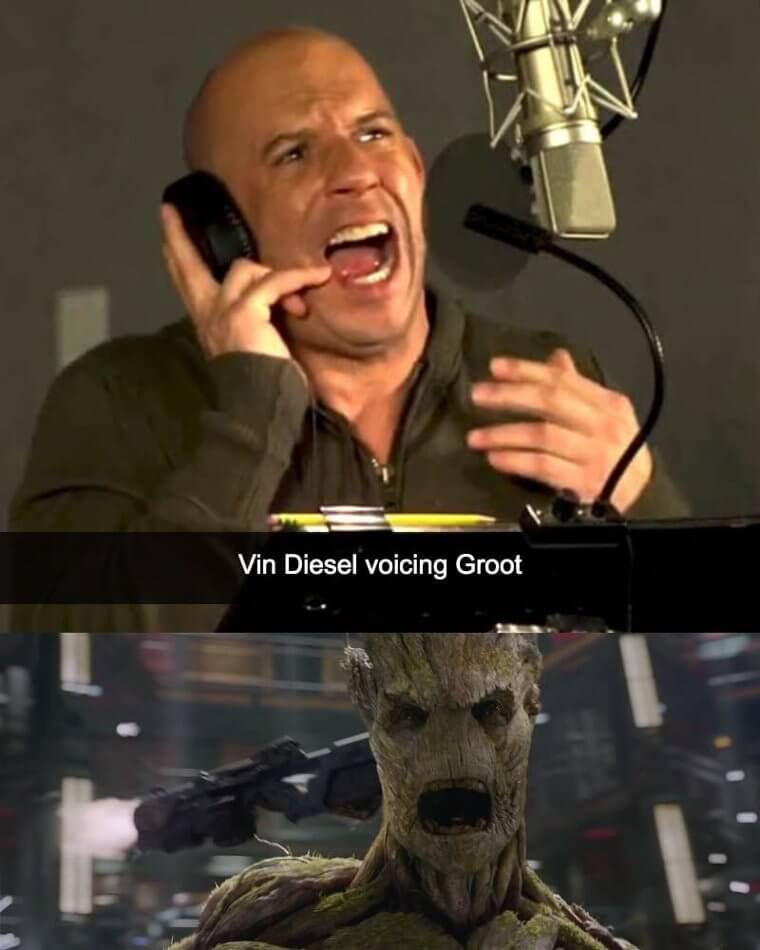 Apparently, for the 2nd Guardians of the Galaxy movie, Vin Diesel had only a small amount of electronic tweaking to the audio for the baby Groot voice, as Diesel was said to have nailed the childlike high-pitched voice!
Forbidden footage (Avengers: Endgame)
This is a snapshot from footage that Chris Pratt dropped from behind the scenes of the filming of Avengers: Endgame, even though phones technically weren't allowed on set.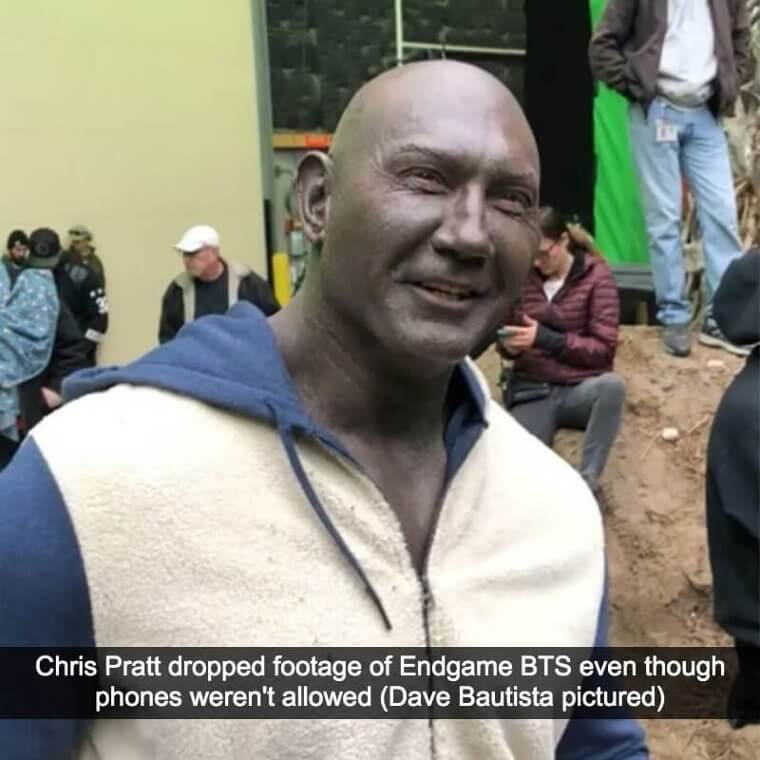 Actor Dave Bautista, who played Drax, is pictured here, but in the video, there are a ton of cast and crew as he does a panning shot filming the area set for the final scene. To the fact that Pratt filmed it without consent, he said "No run was going to stop me."
Looking chummy (Marvel's The Avengers)
We love this shot of Robert Downey Jr. and Mark Ruffalo looking like the very best of friends as they are behind the scenes on location in Manhattan during filming. They seem to be in costume for their respective characters, Tony Stark and Bruce Banner.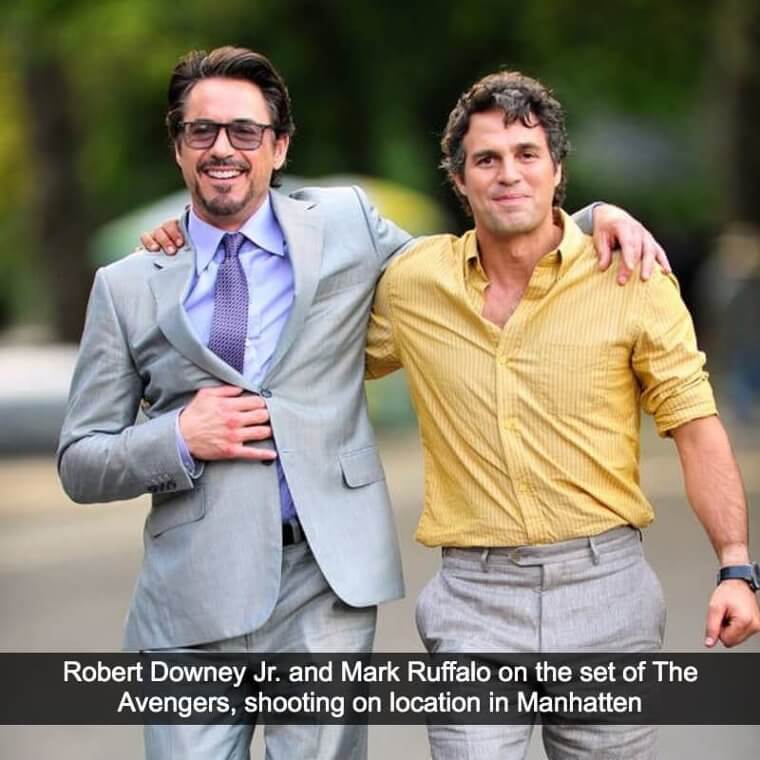 If only these two were so friendly as their actual characters, who had a long-standing rivalry throughout the films until they seem to make amends towards the end of the last film.
Spider-Man slumber party (Avengers: Infinity War)
These friends are kicking it in space, as we see Nebula (Karen Gillan), Star-Lord (Chris Pratt), and Spider-Man (Tom Holland) chilling out between fighting the bad guys on the set of Avengers: Infinity War.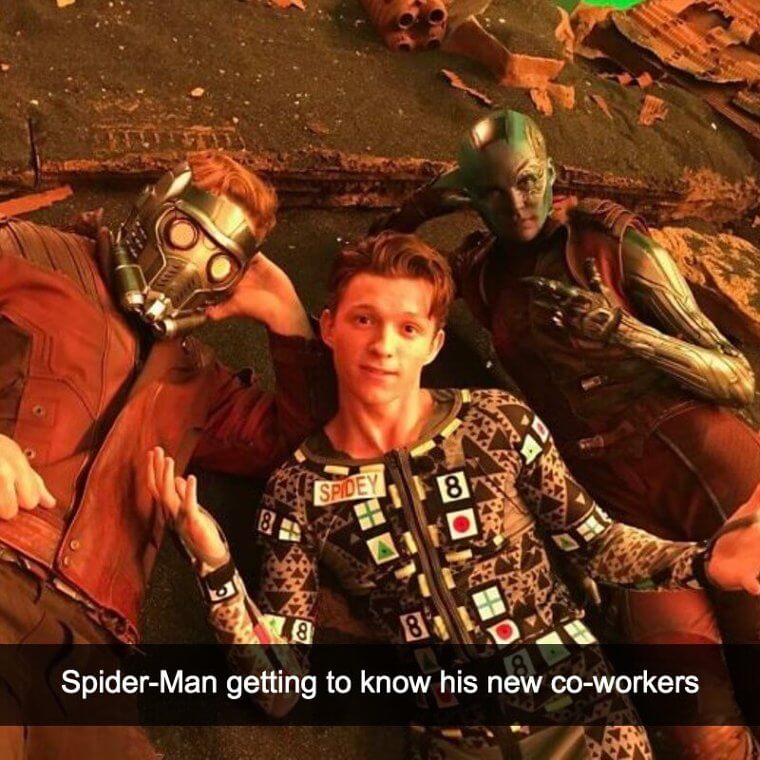 In reality, apparently, the cast of the movie had some funny moments and banter in between scenes, especially between Chris Pratt and Tom Holland. Holland shares that Pratt made him laugh so much that he sometimes found it difficult to do close-up scenes without cracking up.
Feeling fine (X-Men: Days of Future Past)
High Jackman looks way too happy to be getting these metal bars attached to his torso in this shot from behind the scenes of X-Men: Days of Future Past.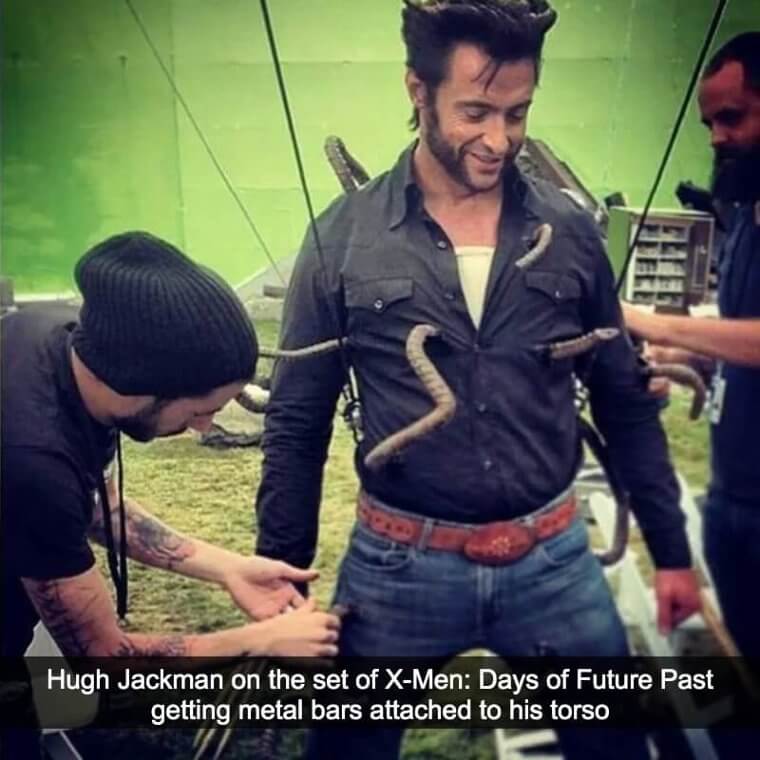 Okay, so he's not actually having the metal bars get stuck in his body like his character is meant to be experiencing in this scene, but he could at least act like it's a little uncomfortable. Maybe he's just saving it all for the camera, like an excerpt actor. That's probably it.
Here's how it's done (Iron Man)
Although this is actually reverse to how the characters would act - with Tony Stark (Robert Downey Jr.) being the one to share with Happy Hogan (Jon Favreau) how things are done (being the genius, and all), the reality is that Favreau was leading Downey Jr. through the scenes because he was the producer and director of both Iron Man and Iron Man 2.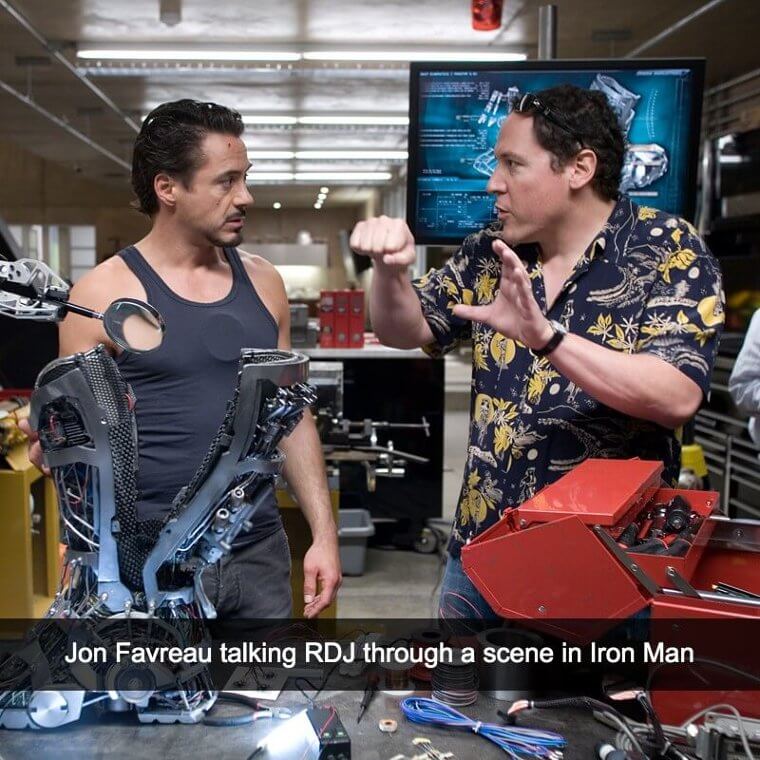 Also, he was the executive producer of The Avengers, Iron Man 3, and the Avengers: Infinity War and Endgame movies!
Girl power (Ant-Man and the Wasp)
On-screen, these two ladies are sworn enemies, with the superhero Hope van Dyne (A.K.A. the Wasp) played by Evangeline Lilly and the villain Ghost, played by Hannah John-Kamen. But off-screen, the two are good friends, as we see pictured here a cute selfie of them trying on wigs on set.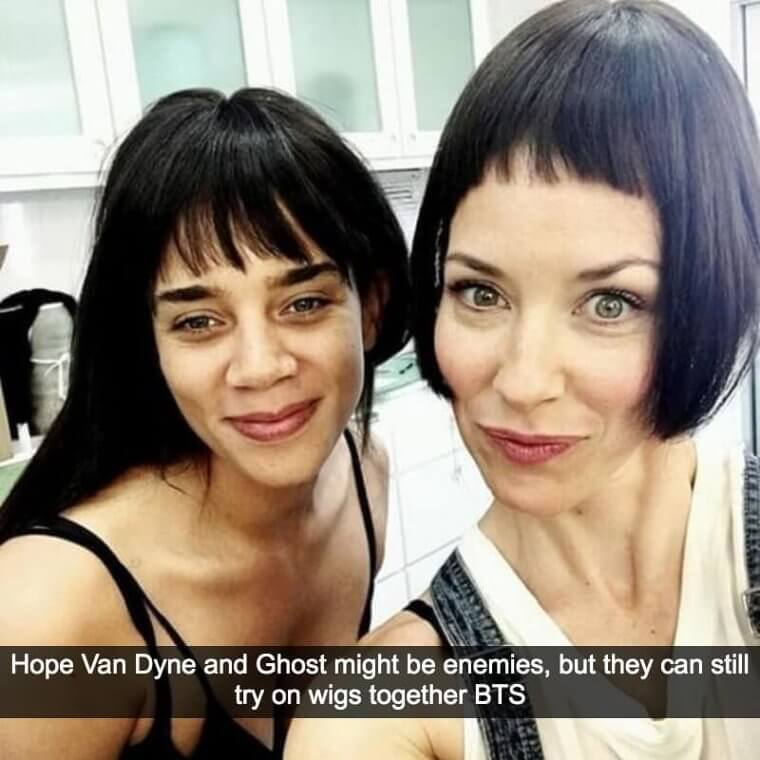 Did you know that with Lilly playing the main character, she is the first woman to play a title superhero in a Marvel movie? Big achievement!
It's all fun and games (Avengers: Endgame)
They say that being an actor is difficult, and you need a lot of patience to film scenes for hours and wait for hair and makeup and wardrobe… but we can't help but be a little envious of the fun the actors get to have together while working on movies.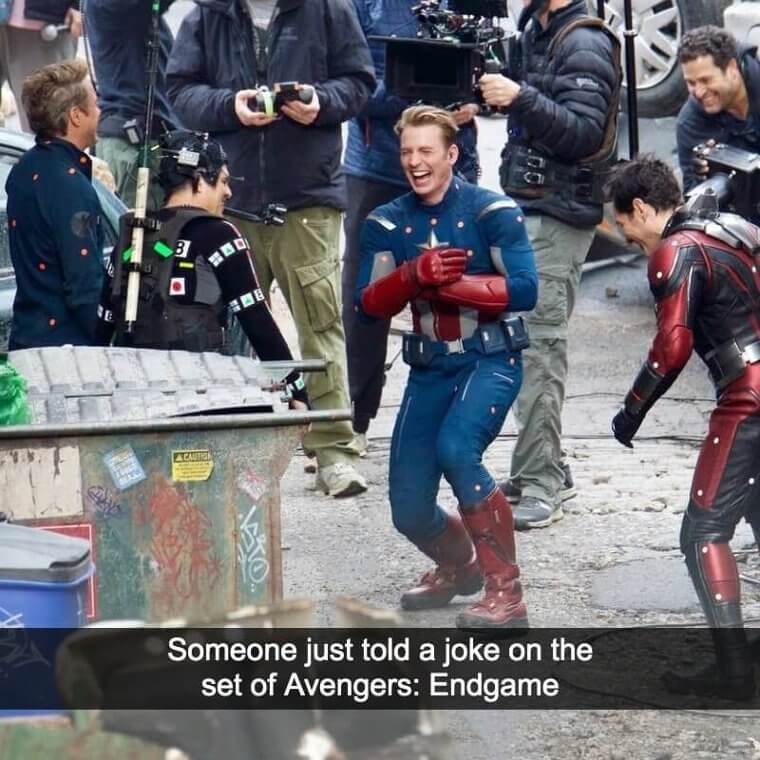 Especially when you have big personalities, like Chris Evans (Captain America), pictured here. How cool would it be to spend your days making each other laugh in between takes? Can we be actors, too!
Casual morning run (Doctor Strange)
What's funny about this shot is the two people in the background clearly out for a casual morning stroll through the city, when Doctor Strange (Benedict Cumberbatch) and Baron Mordo (Chiwetel Ejiofor) race past in full costume. Is it a scene being shot?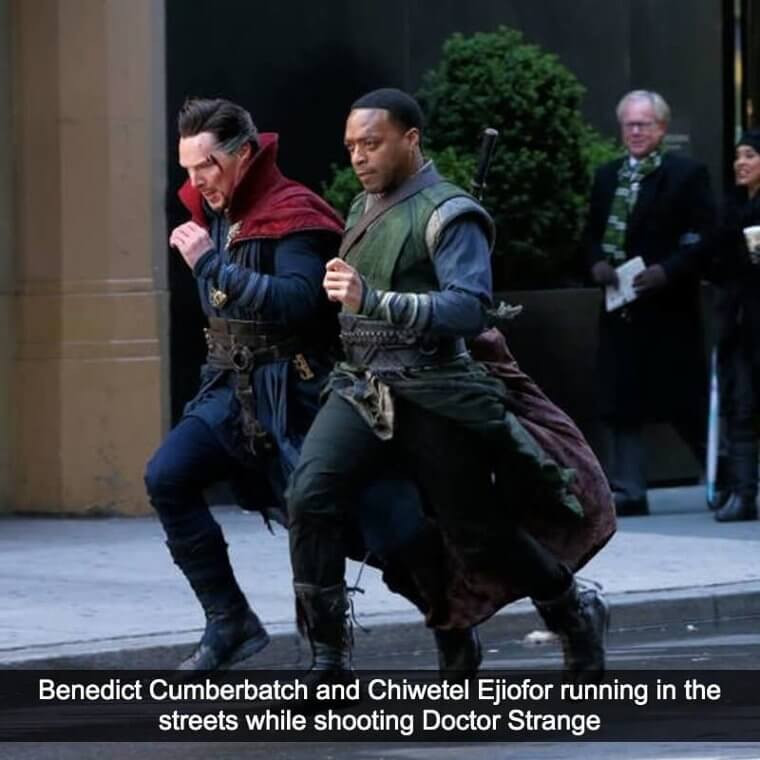 Or are they trying to make it to the breakfast table before the rest of the cast and crew eat everything? For real. We've heard that it can happen on set with so many people.
Saving the day (X-Men: Apocalypse)
Who could forget this iconic scene where Quicksilver, played by actor Evan Peters, saves the day when the X-Mansion explodes during X-Men: Apocalypse? We loved that he just flew in (quite literally) and shocked us all by being there at the right time and place to get everyone out safely.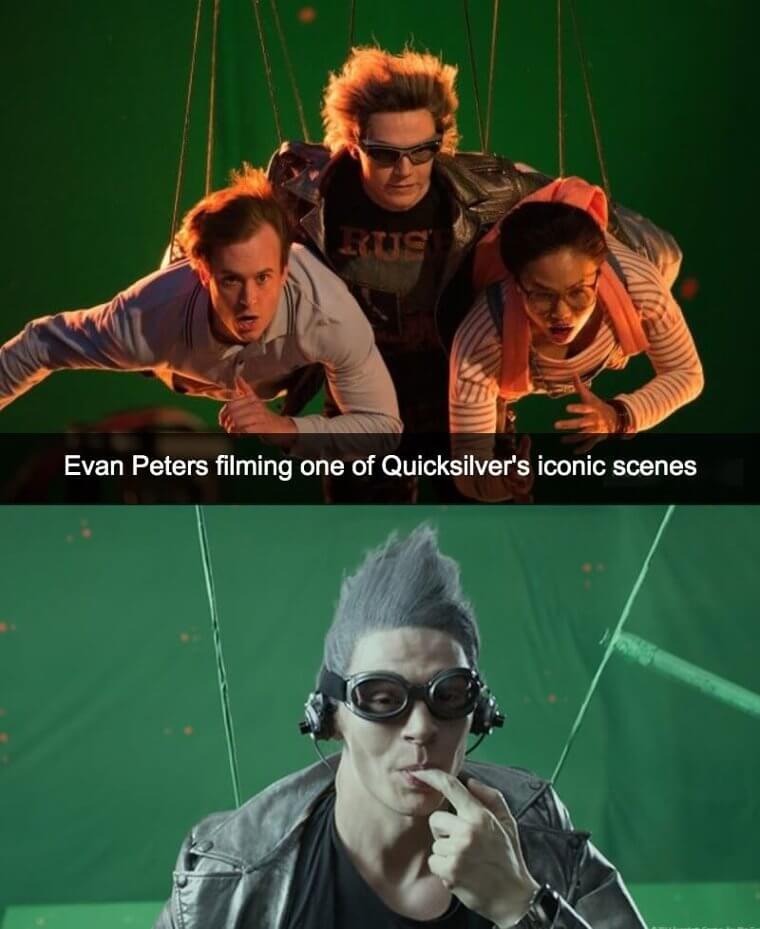 Seriously, this character's powers are some of the most underrated of the entire Marvel universe… ultra quick speed would have come in handy in some of the epic battle scenes of the other movies, too!
Keeping it cool (Marvel Cinematic Universe movies)
Seriously, can this man ever look uncool? He seems to be always playing a brooding, mysterious, cool character of some sort. This shot behind the scenes further demonstrates how effortlessly cool Samuel L. Jackson really is.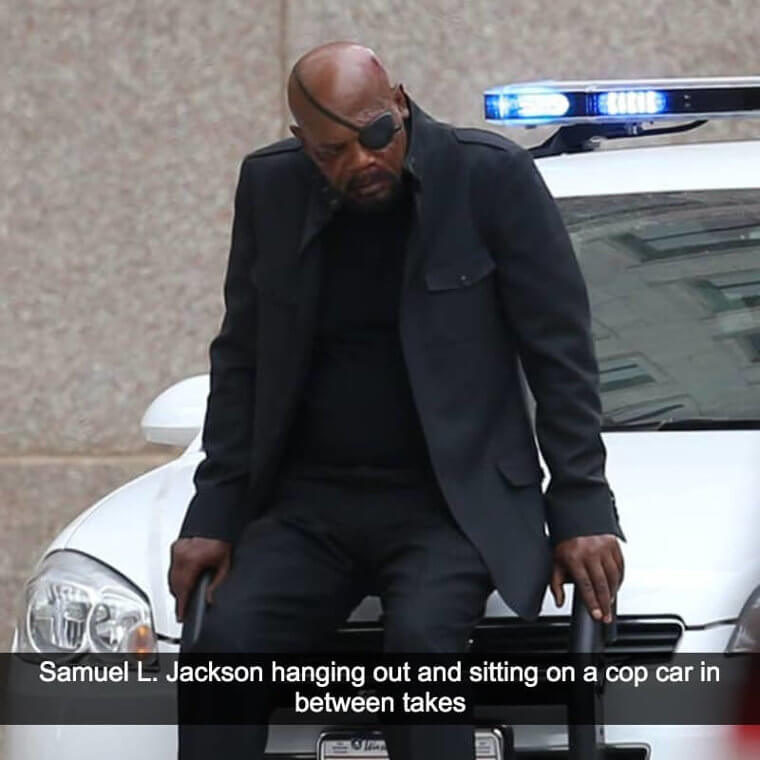 His role as Nick Fury in a huge number of the Marvel Cinematic Universe movies makes him one of the most consistent characters. He was actually featured in 10 of the franchise's films, either as a short cameo or a full character role.
No, don't go! (Avengers: Endgame)
We can picture the conversation that would have been happening between the characters Bruce Banner and Tony Stark when they found out how the Avengers: Endgame movie would end… "No, Tony! Don't go! I take back all of the mean things I ever said about you!"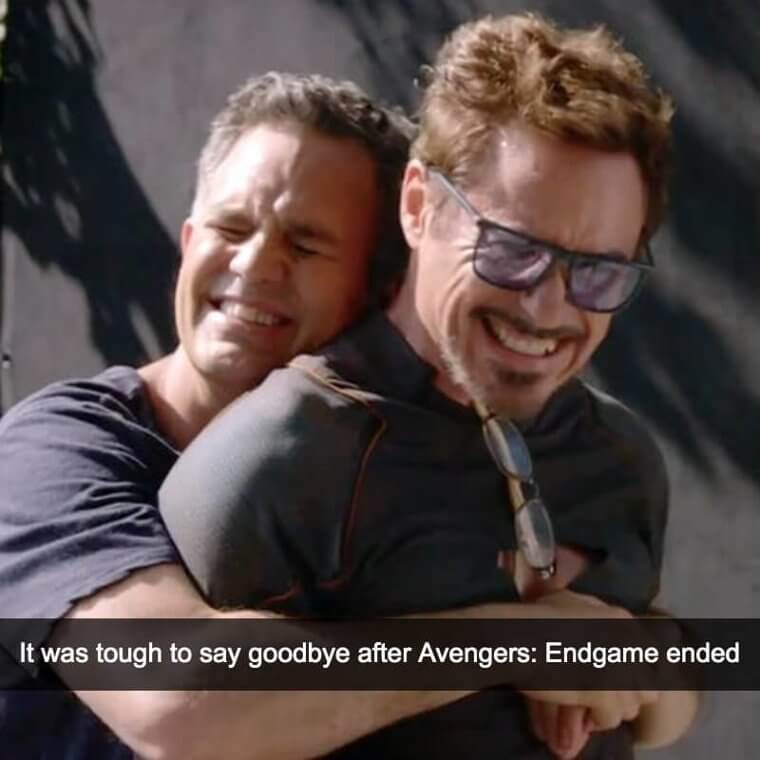 This shot, although behind the scenes, depicting a sweet moment between actors Mark Ruffalo and Robert Downey Jr., is also a great representation of how we all feel about Stark… "Don't go!"
Uh, Was There a '90s Flashback for Thor and Banner?
Avengers: Endgame was a big hit with us. The original theatrical version, the extended cut, the directors' cut, the prime beef cut. Cuts of all kinds. In none of those versions do we remember seeing this. Let us clarify - we're not saying Thor and Bruce Banner working at The Gap in 1996 would not have been awesome. The only thing we're saying is that it wasn't there. What's up, Russos?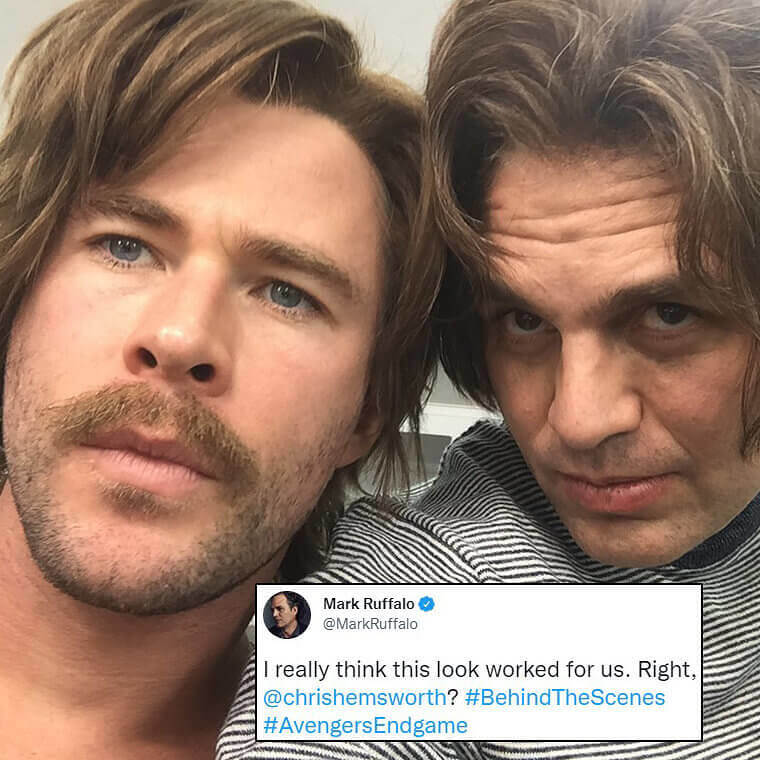 How come you had time for that five-minute conversation about time travel movie plot holes, but not for this? Shame on you, we say. Shame on you.
​Not a Lot About This Photo Is Normal, Honestly
Clearly, Mark Ruffalo is not lying. Enjoying a light meal and some refreshing beverages is definitely a normal activity. It's also true that Benedict Cumberbatch, Robert Downey Jr., Benedict Wong, and he are doing it in the least normal way. Let's take a look. RDJ looks like he's in a La Croix ad, Cumberbatch is a little TOO into that bottle of hot sauce, and Wong is brandishing a fork with no food on it.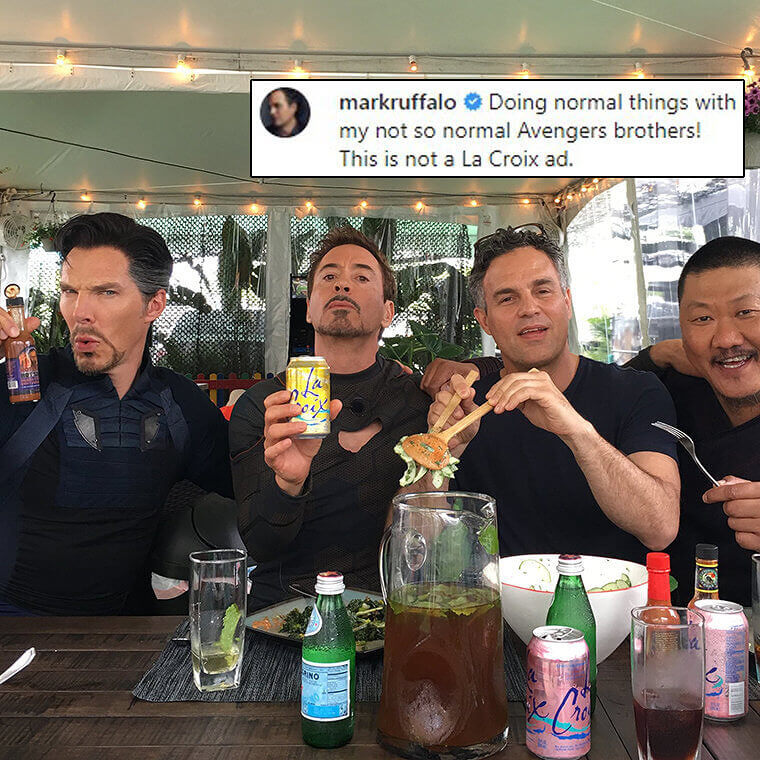 In all honesty, only Ruffalo seems halfway normal, but we're grading on a curve here since no one ever makes that expression while picking up salad.
​Lil' Tommy Holland Had an Accident
Tom Holland revealed to SiriusXM that he broke wind at Zendaya during one of the stunts for Spider-Man: No Way Home. Zendaya spoke about the incident and said she "felt the rattle." According to him: "It's tough, the suit's tight, and the harness squeezes you out." The gentleman Holland admitted the whole thing was his fault without hesitating.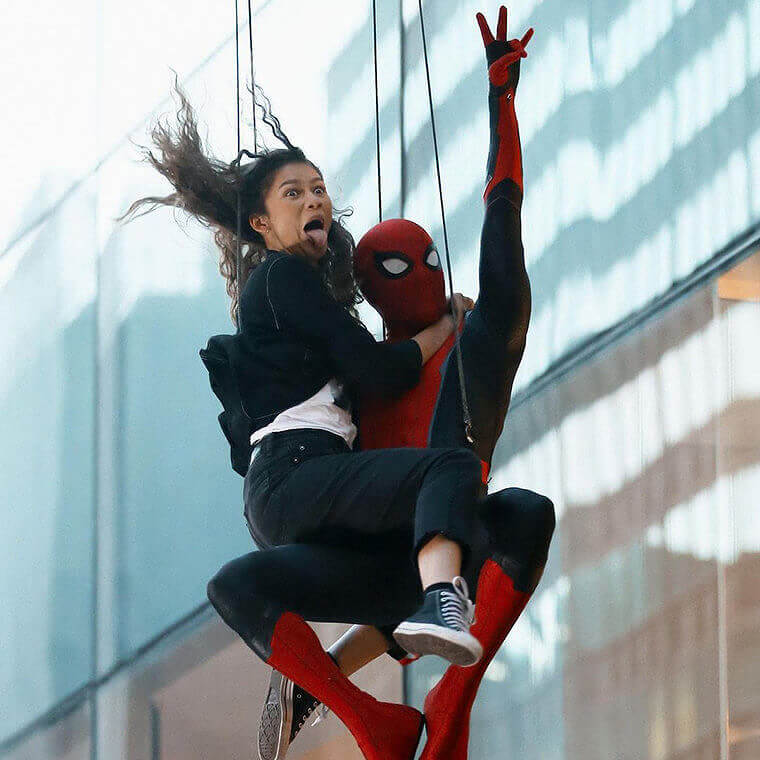 In the interviewer's opinion, it would have been more awkward if it had occurred in the first film - but perhaps he overlooked the fact that Tom and Zendaya only started dating recently.
​Florence Pugh Is Our Spirit Animal
There was something paradoxical about the Black Widow movie. It was Marvel's darkest entry yet, not just because it chronicled the backstory of a fan favorite who had already passed away. The story also dealt with serious "adult" themes, such as human trafficking, abuse, and trauma. So, in what way was it paradoxical? Because based on the behind-the-scenes photos we've seen, everyone had a BLAST making it.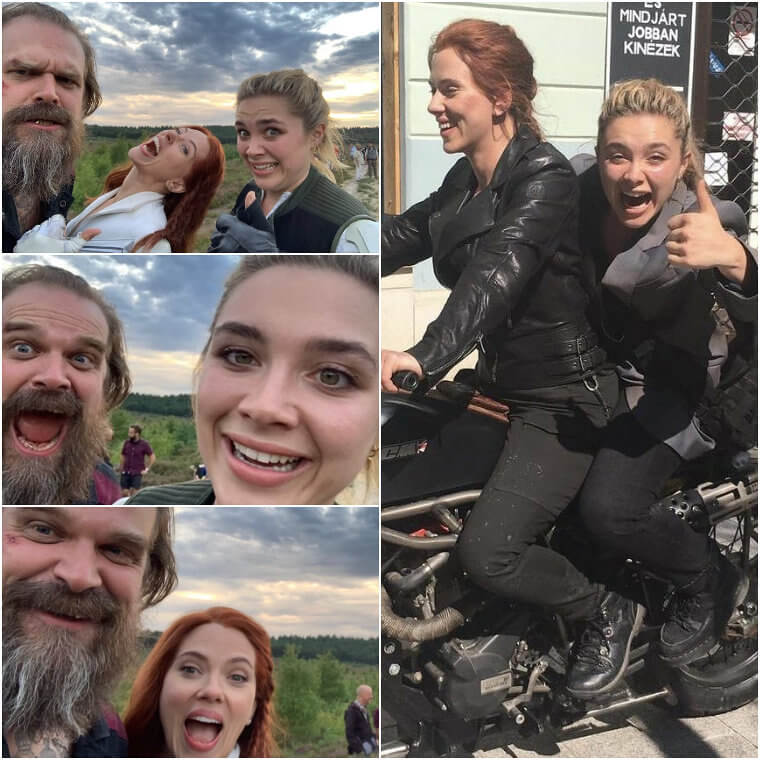 Just look at Scarlett Johansson and Florence Pugh in this one. Although ScarJo is somewhat reserved, FloPu (we just made that up) looks like a kid during her first trip to Disneyland.
Aww, We Love Him Too, You Guys!
Our hearts started beating in time with The Brady Bunch theme while looking at this photo. We understand - this was just a fun little behind-the-scenes pic. Still, our head canon now states that Chris Hemsworth and Taika Waititi kept trying to kiss, but Anthony Hopkins was hellbent on keeping them apart. Love is love, Anthony. Be an ally.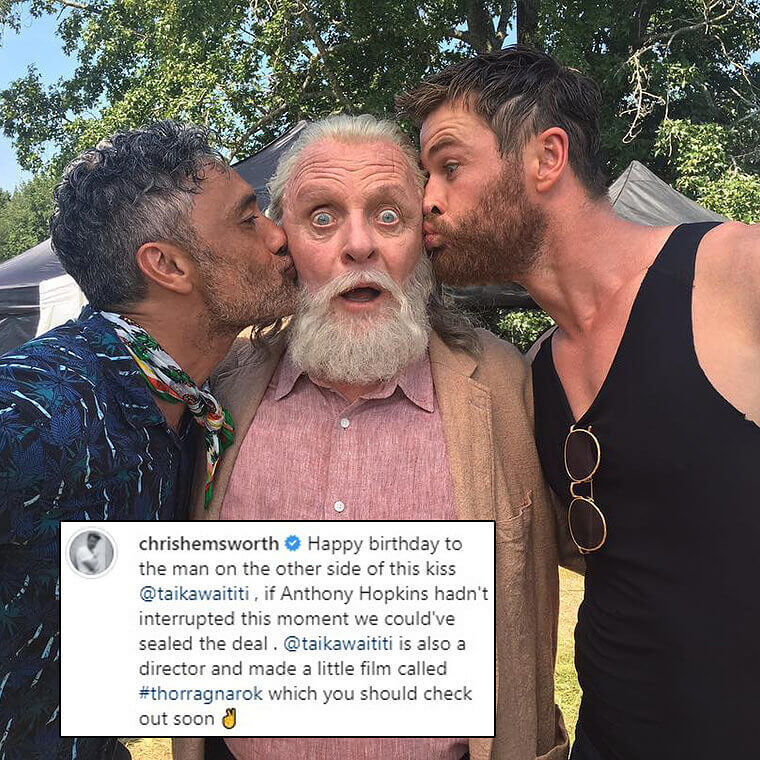 Before we go, are we the only ones who imagined this as a live-action staging of Lady and the Tramp's most famous scene, with Hopkins standing in for the spaghetti? Nevermind, we're almost certainly the only ones.
​The Hot Sauce Incident
There was such great chemistry between Florence Pugh and Hailee Steinfeld in Hawkeye that most of the dialogue between them was improvised between the two. Much of the conversation between the girls and the fight in the elevator were improvised. The scene in Kate's apartment where Yelena adds hot sauce to her pasta is a result of Florence discovering Hailee disliked spicy food.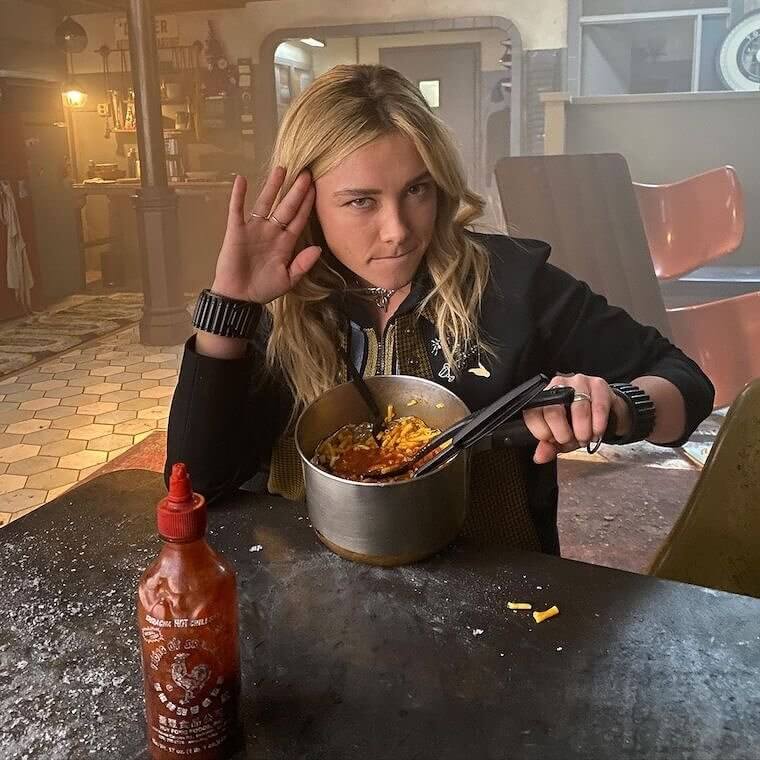 It's these small moments that make the on-screen presence of the characters - and actors who inhabit them - so captivating.
​Awkwafina's Stunt Double Almost Looks TOO MUCH Like Her
Unless you're Tom Cruise and legitimately have a death wish, you're going to want a stunt double to jump in whenever anything risky happens. Shang-Chi and the Legend of the Ten Rings, apart from being a serious contender for wordiest title in the MCU, was no different. Actually, there was something a little special about Shang-Chi's cinematic debut. Specifically, it had to do with Awkwafina's stunt double.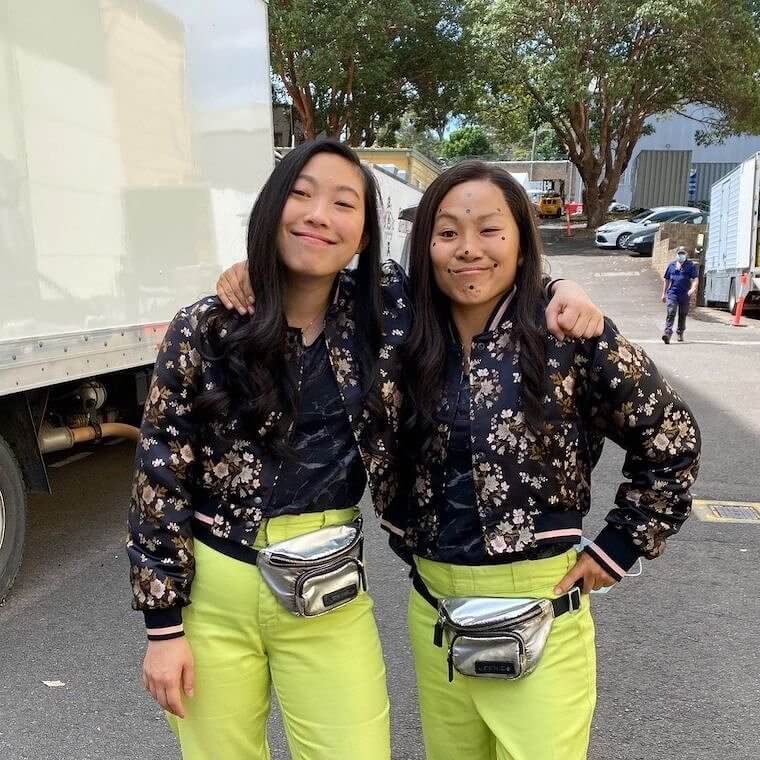 The comedienne played Katy, the titular hero's lazy best friend who finds out there's a little something heroic inside her too. Since she was involved in a little action, stuntwoman Lee Chesley tagged in. The cool part? Chesley was Awkwafina's double in Jumanji: The Next Level too!
The Start of Something Beautiful
You'll love this one if you liked Hailee Steinfeld and Pizza Dog on Hawkeye. If you didn't, we hope you'll be taken home by the mother ship soon. Okay, so we're kidding, but Steinfeld was amazing as the heroine just beginning her journey in Hawkeye. We'll be seeing a lot more of her in the future, naturally. That aside, the entire cast violated one of Hollywood's oldest rules - never work with kids or animals.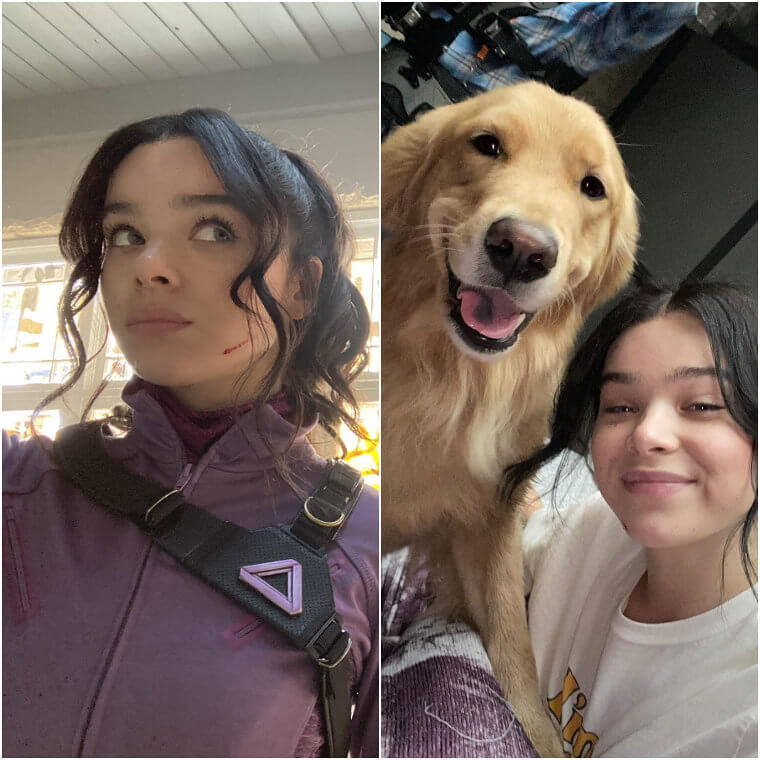 And that old adage was never truer than with Pizza Dog, who proceeds to steal the whole entire show. Still, we admit we were weirdly disappointed to discover that he has two eyes in real life.
Grabbing Forearms Is Kind of Their Thing
Despite ending on what is quite possibly the biggest downer in superhero movie history, Avengers: Infinity War sure does seem like it was a rollicking good time to make. Just look at Chris Hemsworth grabbing Chris Pratt's forearm, or Paul Bettany... grabbing... Chris Evans's forearm. Hum. A pattern seems to be emerging here. With so many alpha males on-set, maybe this was their only way of determining who the toppest of top dogs was.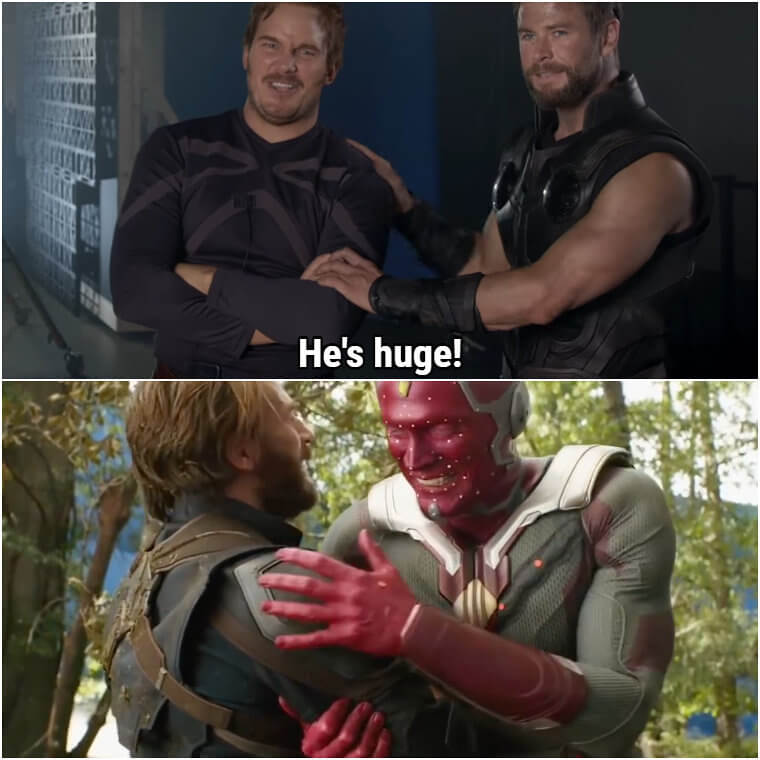 Spoiler warning: it was Tom Holland. At any rate, it definitely WASN'T Pratt, who got bumped off on a technicality by admitting Hemsworth was more swole than he was.
Captain America: The First Chipvenger
This is a behind the scenes pic of Chris Evans, A.K.A America's A**, taken on the set of Avengers: Age of Ultron. That's about as far as the facts of the matter go. Anything beyond this point, we feel we must caution you, is pure speculation. With a crowd of literally dozens of crew people seemingly waiting in the background, why is Evans so suggestively holding up a single chip?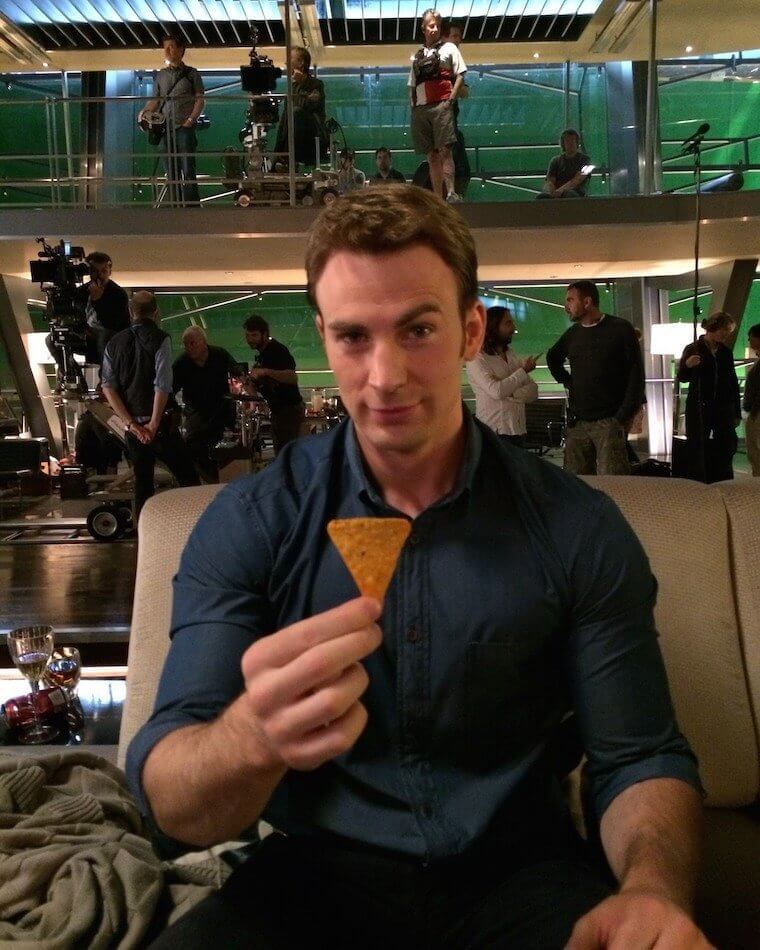 We may never know the answer. All we know is that Robert Downey Jr. - as in the actor, not the character, calls Chris Evans "Dorito" in real life. Are the two connected? We're not saying yes, but definitely yes.